Jim Harvey, UK - Sunday, December 30, 2007 at 22:06:15
I see my old pal David Guest (8th November) has found this site. Well do I remember our Chantala days together, along with Bertie Miller, Don Cherry, all the rest of the crew, and of course our jaunts up Kilindini Road. Dave it would be great to hear from you, get in touch with me and we can catch up.
Richard Dewis, UK - Sunday, December 30, 2007 at 21:53:40
My father served as a Naval PO on ss Egra in 1942-43
Kenneth Paes, US - Sunday, December 23, 2007 at 18:33:30
I'd like to be contacted by Ken Paes who served on Bankura ship.
Haroon Tar Mahomed, South Africa - Wednesday, December 19, 2007 at 10:20:48
We are constantly updating info on the website - www.sstilawa.com ss Tilawa sailed from Bombay to Mombasa and Durban and was torpedoed by a Japanese submarine on 23rd November 1942.
Tim Comyn, France - Thursday, December 13, 2007 at 17:27:21
I don't see many entries by anybody who were 2nd or 3rd officers in the late 60's. I hope they aren't all dead. Weddick, Bellamy, McCallister are names that spring to mind, Dick Aldrick is another. Isee Dudley Horscroft's name on the BI web site quite often, he would wouldn't he.
Brian Agnew, UK - Thursday, December 13, 2007 at 01:09:35


Excellent site. Need to contact Ian McWhannell while on holiday in NZ. Can anyone provide email address for Ian (Angus)?
Phil Incledon, UK - Wednesday, December 12, 2007 at 14:34:59
Kenya (1966 - 1968), Uganda (1965). Greatships, really happy memories. Also New Zealand 1961/1962 (Nyanza). Rajula 1970/1971
Jim Devine, - Tuesday, December 11, 2007 at 23:42:45
Greetings BIshipmates, I am currently holidaying with my daughter and first grandchild in Tennessee USA and contemplating a trip to Fremantle in 2008. Annie, my wife, is engrosed with the baby, and I am banished to the garden to erect the Christmas decoration display, but what else are Grandpas for? Hope all of you at BIship, and all subscribers to this website have a wonderful Christmas and peaceful New year.
Malcolm Henderson UK - Tuesday, December 11, 2007 at 14:48:20


Ref Sue Saltmarsh [Nov 21, 2007]. Sorry but I cannot add much info about your father. When I transfered from the Woodarra onto the Chanda in Melbourne, August 1959, my position was taken over by John Black. I seem to remember that he was at the end of his contract and using her to return to England. We only met for an hour.
Jim Hepburn, UK - Tuesday, December 11, 2007 at 11:08:54


Hello, from memory there was a TV film made around the 70's of the sailing from Bombay to the Gulf states. I cannot fix the ship? But would be intereseted in a video if there was such a thing for purchase of this TV documentery on B I. [There was a BBC documentary made on board Dwarka in the early 1980s - Editor]
John Leeson, UK - Monday, December 10, 2007 at 14:56:51


For Peter Griffiths. Ref maiden voyage Bamora - My parents Angela and 'Barney' are still fit and well living just outside Wetherby. Cannot remember whether I was part of the initial maiden voyage, but I was on the ship at some point - I believe we made the papers in Sydney - John ( eldest son)
Tom Sowerbutts, UK - Saturday, December 8, 2007 at 16:29:52
Worked for Henry Tyrer -Ship Brokers- of Vernon Street , Liverpool for several years.
Bertram Wilton-King, UK - Tuesday, December 4, 2007 at 20:17:14
Where would i find records of employees in INDIA 1900 to 1950? Would be most grateful for any advice.
Tony Brown-Bresford, Australia - Saturday, December 1, 2007 at 06:49:46
Very enjoyable to scroll through the many years of happy memories of old friends and old ships. Pleased to see the photo of ss Okhla on which I sailed as 5e/o in 1949.
Susan Mayfield, UK - Friday, November 30, 2007 at 20:28:22
I am looking for info regarding my mother, born in Bombay in 1926 and her parents who lived in lower Coloba. [Was your mother's family connected in any way with BI and if so what were their names? - Editor]
Tim Sudbury, UK - Friday, November 30, 2007 at 10:33:06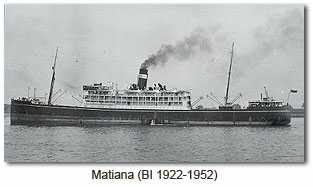 I was a passenger on ss Matania [Matiana ?] in 1951, when I was five years old. I would love a photograph of the old girl if anyone has got one.
Barry Schofield, UK - Wednesday, November 28, 2007 at 21:35:53
Some of the happiest times of my working life where had in the BI. I met some fantastic people and we had a great time.
Chris Holden, UK - Monday, November 26, 2007 at 11:19:11
I'm trying to obtain a photograph of the former BI ship Gambhira that was built as the War Merlin in 1918. She was used as a block-ship at Scapa Flow in 1939, but was later raised and used as a target-ship off Anglesey, where she still lies on the seabed.
Neil Sealey, Bahamas - Sunday, November 25, 2007 at 18:42:28
Worked for BI on a dozen ships 1957-64. I'll be attending the BI Reunion in 2008 for the first time.
Sally O'Hare, US - Sunday, November 25, 2007 at 15:30:29
I was delighted to see a picture on the HMT Neuralia. My mother, brother and I sailed back to Ireland on this shipfrom India in Feb1938. I was four years old. My parents died in 1944, so I had never seen a picture of it before. I'd really love to have a large copy of the picture. If Mr Dobson sees this, he could get in touch with me.Thanks.
Penny Young, US - Saturday, November 24, 2007 at 21:55:14
Am searching for passenger lists of BI ships. My grandfather, Christian Frederick Hare, traveled from Calcutta to Bangkok in 1904 on one such vessel. How may I locate this information? I'd very much appreciate input and direction so I might pursue this avenue.
Angela Busch - Saturday, November 24, 2007 at 15:50:02
My Grandfather was Alfred Victor Paul. He was Purser on the steamer Mandala and went on to be the Admin Manager for the Royal Albert Docks
Sue Saltmarsh - Wednesday, November 21, 2007 at 09:05:16


Malcolm Henderson [Nov 5, 2007] - did you know my Dad Johnny Black? He was an engineer on the Woodarra about the same time you served on there but he wasn't on for long before being transferred.
Malcolm Ivison, UK - Tuesday, November 20, 2007 at 13:15:30
Nice to see some names from the past which I recognise. I'm still at sea as 1st/CEO albeit less exotic necks of the woods these days, ie Bristol Channel & NW England working aggregate dredgers. Remember Sandy Macfarlane from SSMTC as I started at the same time, also Roger Timms as I was an engineer cadet when he was 3rd mate on the Waipara, I think. Others are from memories of film swap/ social visits to company ships. I also remember Laurie Edwards as CEO on the Nyanza, a real old style gentleman, I think i was there for a part of his retirement trip accompanied by his wife. I did my cadetship sea time with Dave Profitt on the Waipara followed by Nyanza in '70/71. Following that, spent two and a half years on the Jelunga followed by leave and then another 1 year on the Jelunga/Strathleven as she became. Moved through various P&O group companies up until leaving P&O Nedlloyd in 1998.
Peter Griffiths, Canada - Monday, November 19, 2007 at 20:21:44
I sailed on the Bamora's maiden voyage in 1961.The Master was Tommy Rouse and Chief Officer Barney Leeson with Mike Storey as 2nd Officer and Spud Murphy third officer. I was the junior cadet along with Nigel Stephenson from Grimsby and Robin Paine who I was at Pangbourne with. John Gunn Mcleod was the Radio Officer a true Stornaway character! George Galbraith, Bll Crooks, Neville Burford, Tony Christ and Sandy Souter were some of the engineers. It was an exciting first trip and I wonder if any former shipmates are out there? If so please get in touch! My wife and I run a B & B here in Niagara on the Lake in Ontario, Canada and I would really like to get in touch with my old shipmates.
Brian Warburton, UK - Monday, November 19, 2007 at 08:35:24
Re Malcome Henderson, we must have sailed together. I was fiver on Woodarra at that time, your name rings a bell. You must have been on board with Tom Hunter and Eric Deans. Hope you are keeping well. Why not sign on to the BI Yahoo chat line and maybe find some other shipmates.
Tony Ekneligoda, Australia - Saturday, November 17, 2007 at 12:36:05
Regards to Ms Lou Chambers. I sailed with your Dad, Mum and yourself on Purnea 69/70 Voyage to Europe from Australia. I was 3/0. I am still at sea!.
Amanda Letch, UK - Thursday, November 15, 2007 at 22:53:53
I'm researching my family tree, and have discovered that one of my ancestors was an engineer on board the Dilwara in 1901. Where could I find out more about the ship and, if possible, my ancestors role? His name was Edward Heaver.
John Dodsworth, UK - Friday, November 9, 2007 at 16:22:58
Joined mv Chindwara in 1951 and sailed on a number of BI ships.
David Guest, UK - Thursday, November 8, 2007 at 21:43:41
I've just looked at this website for the first time and see my old mates Bob Harvey and Roger Timms from Chantala mentioned. I was saddened to read about Geordie Beresford - I recall a memorable nights drinking in Lisbon when we were on Dunera which resulted in us being hauled up in front of the C/O - not good when you are cadets ! My favourite memories of my time with BI are Bertie Miller, Don Cherry, Dave Ledger ( the best C/O a cadet could have), Robin Philips ( the best Captain a cadet could have), Chupra in '68 ( Far East, NZ and Oz ) and the Casablanca Club in Mombasa...but not necessarily in that order.
Sarban Singh, US - Thursday, November 8, 2007 at 03:10:01
I am looking for Calcutta to Fiji vessels and their voyages from 1917 to 1940, plus any other related information
Malcolm Henderson, UK - Monday, November 5, 2007 at 19:47:41
I joined my first ship ts Woodarra in June 1959 and was transfered to the ms Chanda in Melbourne on August 16th 1959. I sailed with her until a serious accident brought my career to an end in Bahrain April 1960.
Rosemary Pollock, UK Friday, November 2, 2007 at 20:04:43


Some time during the 1930's my mother (when she was very young) travelled to Morocco aboard ss Mashobra, returning a few weeks later with the Manela (she always thought this ship was called 'Manila). The trip had been recommended as treatment for a nervous breakdown and it certainly was brilliantly successful. The problem is that for as long as I can remember my mother has never been able to say exactly when it took place. I know that her return was delayed by some kind of strike action, and also that she has always believed the Manela (Manila) to have been on her last voyage, heading home to be broken up - yet I see this did not happen until 1946, and my mother's voyage was quite definitely pre-war. It would be marvellous if someone could come up with some information. [I suspect that the answer to this conundrum is the fact that during the later 1930s Manela was laid up for periods and was even rumoured for disposal. It can easily be imagined that on trips immediately before such lay-ups there would have been a belief on board that it was the ship's last voyage. The prelude to war and the war itself probably saved Manela, but immediately after her war service ended in June 1946, she was sold for demolition without being recommissioned by the company - Editor]
Nicholas Grant-St. James, UK - Friday, November 2, 2007 at 00:46:22


I have a lovely English Pewter hip flask from the ss Madura if any one is interested. It is listed on eBay.co.uk and the tag line is as follows. ss Madura 1922 hip flask hand beaten English pewter Item number: 120177201321
Anthony Ford, UK - Wednesday, October 31, 2007 at 18:31:32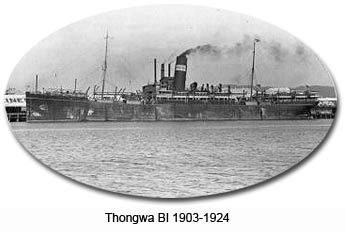 My father was serving 1st Battalion Sherwood Forresters and was a passenger aboard ss Thongwa on his return to Europe from India in 1914, and I, also a Forrester aboard Empire Test, November 1947, enroute from Liverpool to Port Said.
Sue Saltmarsh - Wednesday, October 31, 2007 at 07:39:27


Brian Warburton: My Dad mentioned about going to Australia, unfortunately I can't ask him now has he passed away back in 1990 still quite young. Which is why I have all his navy stuff from inoculation certificates and loads of pictures. Yes he was known as Johnny like football and I think he joined when he was only around 17yrs old and left in his early/mid twenties, he went to work and live in England and married my mum in 1962 and had me. If you have any photos, email them to [me please].
Jennifer Scott, New Zealand - Tuesday, October 30, 2007 at 10:26:01


My mother and her brother, pos 1913, followed parents who came to Fremantle on Janus from Calcutta in 1912. seeking how and when they came?
...sign the logbook

Alvin Gomes, Canada - Monday, October 29, 2007 at 20:58:08
I travelled on ss Karanja from Dar-es-Salaam to Bombay in 1971 when I was 2 years. I do not remember much of the journey but I grew up listening to tales about voyages by my whole family.
Brian Warburton, UK - Monday, October 29, 2007 at 09:25:41


re Message from Sue Saltmarsh (nee Black) [Oct 14, 2007] I think I sailed with your dad John, known as Johnny. He joined Woodarra in, I think, Melbourne about 1958/59. He joined after a spell of two years on the Indian coast. Had a great time with him in Australia. He had a great collection of LP records, and a great suntan. I think I have a picture of him somewhere. He left us when we got back to UK, never heard of him again. He was 5th Engineer at that time. I think his previous ship was Amra.
Terry Gardner, Canada - Sunday, October 28, 2007 at 23:21:49
re Robin Knox-Johnston's entry [Oct 19, 2007], I was on the Nuddea in 1961 (relieving R/O), and I believe he was 3/O, along with Capt Jack Hamilton, he was also on the Dwarka Jan. 1961, and V.Fox was 2/O.
Hans-Peter Lemcke-Braselmann - Sunday, October 28, 2007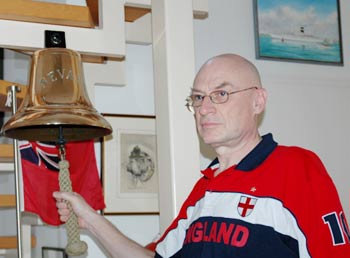 [Writes to say he has the bell from Nevasa (presumably the most recent ship) plus a watercolour of the ship and a model of Kenya. It is believed the bell, which he bought in Southampton 20 years ago, was taken off the ship before she departed on her run voyage to Kaohsiung and the breakers in 1975. Peter is pictured here with the bell and painting. Editor]
Kiran Joshi, UK - Sunday, October 28, 2007 at 08:14:25


I am looking for a passenger manifest from Ballard Pier, south Bombay, sailing to East Africa on Saturday June 24, 1947, arriving Dar-es-Salaam on Jul 121947. Any help in this matter will be much appreciated.
Sandy Macfarane, New Zealand - Thursday, October 25, 2007 at 04:08:55
Engineer Cadet at SSMTC in 1967 - sailed on Nevasa, Aska, Nowshera, Zaida, Zira and then into P&O GCD..last Ship 2/E/0 Strathmay (ex Manora). Great site. Hope to make the reunion at Runnymede in 2008. To Bryan Rogers.. Mick Roper I saw the email from Anne & John...answer in progress.
Kenneth MacLean, US - October 22, 2007 at 15:34:20


We are trying to do a family tree. We know that Kenneth MacLean was a ships carpenter aboard the Java which was built in 1872 by A&J Inglis, Pointhouse Glasgow. Any and all help would be appreciated.
Hazel Harradence, UK - Monday, October 22, 2007 at 11:32:11
Enjoyed looking round the site. My great-grandfather Arthur Fleming sailed on ss Dorunda from Plymouth on 27 September 1883 with an assisted passage. On the boat he met Sarah Jane Deakin and when the boat reached Brisbane, they got off, got married & then continued their journey to Sydney. I would love to have a picture of the ship. Can anyone help, please?
Bill Noble, UK - Friday, October 19, 2007 at 16:32:24


Would like to hear from any old shipmates with whom I sailed: Kenya Uganda Dunera Woodarra Queda
Robin Knox-Johnston, UK - Friday, October 19, 2007 at 14:29:04


Re Ken Whitehead's comments about the Bombala, I never served on a B [Class ship]. I served on Chindwara, Nardana, Canara, Chakdara, Nyanza, Dwarka, Dumra, Santhia, Sirdhana, Kenya and Woodara from cadet to CO between 1957 and 1968.
Geoffrey Smith, UK - Thursday, October 18, 2007 at 18:17:48
First ship, Chilka, from Tilbury in November 1969 to points east. Then Chakdina, Nowshera, Nyanza, even the Rajula with the "Blue Thing" and Taff. Then the "Super Strath" Ardle [Strathardle] with my best man Dave Smith and Chris Willis. Left her in Kobe and came back to UK via Trans-Siberian Railway with Dick. The Strathconon came next. Left her in HK and flew to Japan to get married. Then the Strathcarron for a couple of years between the Gulf and Japan taking the better half with me. Flew back to UK from Gulf then had a few 'Wild' boats before resigning. In charge of maintaining a leisure centre for 18 years and then joined Peugeot at Coventry until they closed and sacked over 4000. Am now a man of enforced leisure. My first C/E/O, Mr. Simpson, said I would marry a Japanese lass. He was right and 32 years of wedded bliss comes up next February. Mind, the 3 sons are now a bit of a handful. The older they get, the worse they get. Anybody remember Big Jim Cowie?
Clare Buck, UK - Tuesday, October 16, 2007 at 14:52:14


In reply to Alan Kendall [Sept 28] 2005, apparently my grandfather Robert Archibald Philp was also 2nd engineering officer on Nowshera when it was captured. He was taken with the crew to a POW camp and died of TB. We have a photo of the funeral at Becklingen cemetary. I have no other details about his crew etc and would love any information.
Sue Saltmarsh (nee Black) - Sunday, October 14, 2007 at 19:36:21


I have a handbook from my Dad called the British India Steam Navigation Company Limited Regulations and Instructions. Issued to him in 1956. In it he has listed what I assume are the ships he served on. I think he joined Merchant Navy around 1952-1956 until around 1960-ish. I believe he was an engineer but not sure of the rank. I have photos of him in all white uniform. The ships he listed are, Chindwara, Amra, Dara, Chupra, Woodarra, Queda (In that order in the book). Did anyone know John Black from Motherwell, Scotland. I have postcards he has written to his family with pictures of the boats he was on but can't make out the dates on the stamps. One is 8th August 1957 where he is "still" on Chindwara and another date unsure is the Amra on which he writes: "I am on this ship and I am going to Bombay won't be home for about 2 years."
Lynn Nonas, Saudi Arabia - Sunday, October 14, 2007 at 15:17:19
My Grandfather sailed with BI in 13/06/1942 to India. Hopefully this site will give us an insight into his voyage.
Douglas Daniel - Sunday, October 14, 2007 at 10:52:07
Was that the Lewis Drummond who was an engineer on the Pundua
Sheila Ainsworth, UK - Sunday, October 14, 2007 at 10:50:36


Are there any pictures of the ss Manora, or a similar barquetine? How long would it take in October 1891 for her to travel London-Calcutta? These are points raised in Family History connection. [From a BI timetable of 1904 the total passage time London-Calcutta (with calls at Aden, Colombo and Madras) was 34 days. This probably wouldn't have been substantially faster than the 1891 service - Editor]
John Wrightson, UK - Friday, October 12, 2007 at 14:11:18
Have just made contact with BI website and hope to attend Runnymede reunion with a couple of ex- BI colleagues (D Martin & J Cooley)
Martin Webster, UK - Tuesday, October 9, 2007 at 18:48:42
Just got a call from an old sea buddy Keith Sutcliffe who told me about the BI web site, have enjoyed looking through the names and comments. I joined BI in 1966 and left in 1970. Spent the first year on the Chandpara then onto Bamora. Had shorter trips on the Juna, Dumra and finally Bombala.
James Cruikshank, US - Monday, October 8, 2007 at 17:07:33
Could be visiting Australia in 2008. Attended Glasgow reunion 2006 as well as BI Engineers' Lunch in Glasgow, then and previously.
Graham Pettinger, Australia - Sunday, October 7, 2007 at 10:20:58
I have been away from this site for a while and notice Chris Barnes and Keith Harmer have signed in. I haven't seen either of you for over 30 years. Best wishes to you both.
Fraser Brunton, UK - Saturday, October 6, 2007 at 18:55:08
The ship's clock from the ss Modasa has been passed onto me by my grandfather William Brunton of Grangemouth who was involved in ship breaking many years ago. Not sure how he came by the clock and wonder if anyone else knows.
Sheila Ainsworth, UK - Thursday, October 4, 2007 at 21:59:33
Very well laid out, and very interesting. Pity I was unable to print the page I wanted [If you let us know which page, will happily mail you a transcript - Editor]
Sreekumar Kumaran, Thursday, October 4, 2007 at 07:33:11
Fond memories of my travels on ss Rajula during my younger days,sailing from Singapore to Madras many times. Today my wife and I go on a cruise yearly the love of sea travel I got from my Rajula days.
Alan Patterson, Canada October 4, 2007 at 00:08:23


My Dad, Alan K M Patterson served as a ships radio officer from 1938-1945. I will be publishing his story in a book called The Radio Man....Marconi Sahib. Please contact me if you knew Alan. He served on ss Indora, Contractor, and Warina.
John Quinn, UK - Tuesday, October 2, 2007 at 12:53:24
Just read the messages for the first time in a while and see that Mick Roper and Bryan Rogers remember Ann and me from the Zaida days. Ann would like to get in touch with them as she does keep up with some others from that time--Sandy, Dave James, Bob Lawrence etc and we recently came into contact with Big Dennis. Ann and John Quinn.
Ivor Lloyd, UK - Monday, October 1, 2007 at 22:26:04
I have been informed that Walter Blewer passed away on 12th Sept 2007.
Walter and I met up after a gap of 59 years. We were both serving, he as cadet and I as Radio Officer on the Surada when we were torpedoed by U188 in the Indian Ocean on 26/1/1944
Rafiq Mussa Moti, UK - Thursday, September 27, 2007 at 14:56:53
Looking for passenger list of Karanja in the 1940's and ship name that sailed from Jamnagar to Uganda
Cherise Pereira, Sri Lanka - Wednesday, September 19, 2007 at 14:16:06
My father left Colombo, Ceylon as a stowaway on a ship in 1924. He was 16 years old. The first port they touched was in India, then France, where he had to serve a short spell in jail. Then he signed on as a marine stoker and proceeded to London. How can I find more details about this incident?
Biswajit Pakrashi, India - Wednesday, September 19, 2007 at 09:14:03


For Mr Tom Kelso, UK - You remember it right! It was On The Hooghly written by Mr M H Beattie, who retired from the Bengal Pilot Service in 1914. The book was first published in 1935 by Phillip Allan, 69,Great Russel Street, London. Beattie had passed out from training ship, HMS Worcester (UK) and joined the Service in 1878, reaching Calcutta by PO ship Peshawar. The book is an interesting memoir of his life as a pilot on the Hooghly. The names of BI ships and masters, figure often in his writing, with anecdotes. He gives an eye-witness account of the sinking of BI ship ss Mahratta on 23 June 1887 off Hooghly Point (James and Mary's Sand ) in which his batchmate Brown (from Worcester) happened to be the Chief Officer. Later, Brown commanded several BI ships. He also mentions the "comfortable accomodation" and "good messing" on board the BI ships and wonders how the Irish stew tasted exactly the same in all the ships! Happy reading !
Derek Swyer, Australia - Monday, September 17, 2007 at 06:43:15
An interest to see if any one else is around that may have been in Modasa Ellenga Egra Chanda Landaura Mantola between 1944 to 1948 when I joined N.Z.S. Co.
Frank Blewer, UK - Sunday, September 16, 2007 at 21:38:14


It is with great sadness that Ii must announce that my father Walter Ernest Blewer sailed for uncharted waters on 12th Sept 2007, after briefly suffering from cancer. He would have been 82 the next day. He served with BI through the war years until the late 1950s. He leaves behind a daughter and son but we are consoled in the knowlege that he is now reunited with his beloved wife and our mother Barbara
Chris Pickering, Australia - Sunday, September 16, 2007 at 06:50:13
I am trying to find information and photos of the Waipara in 1913. My grandmother came to Australia in her.
Derek Hargreaves, UK - Sunday, September 16, 2007 at 00:00:19


Reference Patrick Malone's queries of 3 August 2007. Very recently, a wealth of WW2 convoy data collected by Lt Cdr Arnold Hague RN, previously unpublished, has now been released by his widow and can be accessed on the ConvoyWeb site. It contains details of 11 convoys between 21 October 1939 and 24 July 1941 in which Matiana sailed, all in UK/Atlantic waters to Gibraltar, Freetown and Halifax (NS). The ConvoyWeb site also shows Malda operating in these areas at about the same time.
Clearly, a decision was made to transfer Malda to India in late 1941 or early 1942 and a good BI personel man would not have missed the opportunity of moving a Matiana cadet, enjoying an idle life in Toronto, to the Malda. In Calcutta, Malda was converted to a troop carrier, meeting her end on 6th April 1942 on her first trip in this role, at the hands of a Japanese cruiser off the coast near Cuttack.
A graphic description of Malda's sinking is given in the book Valiant Voyaging where many of the ship's officers are identified. Ask your friend if he recalls a fellow cadet, Thompson, opening fire on a small float plane with Japanese markings on the wings shortly before the cruiser appeared. Considering the intensity of the attack, made without delay, it is surprising that the Malda's fatal casualty list of two engineers and the second cook was so small.
Regarding North African 'ammunition run', I quote the following from Valiant Voyaging: The Urlana herself went with the remainder of the convoy to Algiers and, four days later, was one of the ships detailed to take invading forces to the small port of Bougie. After it had been taken over, she put in to unload and, at once with the other ships in the small port, became the target of the Luftwaffe. The attacks were frequent and severe...." This in November 1942 so that time scales fit. Hope this jolts your friend's memories!
...sign the logbook

Robert Zaluski, Poland - Thursday, September 13, 2007 at 22:47:11


I'm making this comment as a reply to Craig Murdoch query for information about his grandfather Kazimierz Marian Knyszewski [ref October 24, 2006 and Shirala]. Mr Knyszewski was my grandmother's brother. For all we know after he left his home he served on many polish ships as chef (we know that he served on ''JÛzef Pilsudski'' and ''Stefan Batory). Then he settled in the Republic of South Africa where he married Rita Kazimierz. After the letter from his captain that he and he wife separated my grandmother completely lost contact with him. It would great if I could contact you via email to talk about our families and share our knowledge about your grandfather and my granduncle.
Gregory Renham, New Zealand - Thursday, September 13, 2007 at 09:57:03
My grandfathers name was Hugh Alder and he was an engineer on the Nevasa prior to and during WW1. I have two postcards that he sent to my grandmother, one of which is the ship in her normal livery and one as a hospital ship. There seems to be little information about this ship. I would like to know where I could find more info and pictures of this vessel.
Jim Devine, UK - Monday, September 10, 2007 at 23:42:30
Always of great interest, I visit more often than I sign!
Norman Norrington, UK - Thursday, September 6, 2007 at 18:41:09
There is a reference to ss Dunera on 29/03/1898 in my Grandfathers Military records. But on your site you have the Dunera built 1937. Was there a previous vessel with this name? [There was indeed an earlier Dunera. She was inservice in BI group companies from 1891 to 1922 - Editor]
Carol Huck, UK - Monday, September 3, 2007 at 14:54:08


My uncle sailed on the Dunera - September 1937 on her maiden 6 week voyage to Hong Kong - He mentions in his letters (of which I have many) he could see the land of Cape St Vincent, sailing down north coast of Africa, Port Said in Egypt then through the Suez canal and arrived on the 8th October 1937. He was taken prisoner by the Japanese and subsequently sailed on the Lisbon Maru which was bombed by the Americans. The ship was not marked as carrying prisoners of war. Any one interested in wartime history/ships might like to read the book The sinking of the Lisbon Maru by Tony Banham
Gordon Dow, UK - Friday, August 31, 2007 at 23:34:58
Very fond memories of a Baltic Cruise in summer 1972 as a young 11 year old. Gydnia, Malmo - should have been Visby but too windy, Copenhagen and Amsterdam. The Master at Arms still terrifies me! Amsterdam was a complete eye opener! Dorm-Gagarin
Kevin Cheeseman, UK - Friday, August 31, 2007 at 11:05:03
Joined Rajula in 1971 as 2nd RO taking over from J Callaghan and left in Sept/Oct 1973. 1st RO in my time was Phil Archer. Fantastic part of my life and never forgotten. Great to find this website. i have a few onboard Rajula photographs and also group photos of our trips to the HongKong bar in Penang plus a couple of Rajula Christmas menus. Happy memories.
Paul William, UK - Monday, August 27, 2007 at 18:33:51


My father's cousin Robert Thew was 1st Officer of Dongola sometime in the 1950s. I think he did take over as Master due to ill health of the Master. He became 1st Officer of the P&O Himalaya until he met and married an Australian girl and set up home in Western Australia. Anyone with information about Bob Thew would be welcome to email me.
Andrew Buchan, UK - Tuesday, August 21, 2007 at 21:17:24
ms Devonia 14 to 25 sept 1966
Rodney Timson, UK - Monday, August 20, 2007 at 21:48:04


I would like to get in touch with Anthony (Tony) Michael Read. Left Dean Close School, Cheltenham in 1958 and joined Chantala, then possibly New Zealand or Pacific Islands. Any news welcomed.
Santar Singh, Singapore - Saturday, August 18, 2007 at 07:22:28


I read the request of Kenneth Muthusami - Sunday, January 28, 2007: "Long ago, as a child I travelled between Penang and Madras on board ss Rajula and the State of Madras. I have happy memories of those trips. I am trying to look up pictures and history of those two vessels. I appreciate any help I can get in this regard." Like Kenneth I too traveled to Madras in Rajula in 1968. My dad who recently passed away took our whole family that year and left them in India. It was a journey which my family will never forget. After that the family never gathered togather again. Each time we came togather someone was always missing. I am making a short video clip as memorial of my dad's life. The only few pictures I found were that of the ship on the sea. I am looking for pictures of the passengers in the ship. If anyone has any picture of the ship in 1968, please contact me. Kenneth you can contact me here. I will be happy to share the pictures.
Rusy Mistry, India - Thursday, August 16, 2007 at 07:19:16


Joined Bengal Pilot Service in 1946. Piloted BI and other foreign ships. Retired in 1985 but redeployed and still doing odd jobs on daily wages. I have been writing articles on river pilotage. I would like to exchange notes with you.
David Camfield, UK - Wednesday, August 15, 2007 at 16:40:04


I would like to speak to Eric Vroom re the teak lifeboat built by GRW Ltd. We too have one converted to a cruiser in the 1950's any info on GRW would also be gratefully received.
Ian Marshall, UK - Monday, August 13, 2007 at 16:37:27
A passemger accompanying my parents returning from Singapore in 1957 on ss Nevasa after my father had completed a 2 year tour at HQ FEAF in Kuala Lumpur.
Gautum Chakraborti, India - Wednesday, August 8, 2007 at 11:33:02
A repertory of personal information, this site can indeed be a valuable tool in furthering historical research on pilots, pilotage and trade. We are looking fervently for memorabilia from seamen of the olden times who sailed along the Hooghly to and from Calcutta or any other trading point on the river. A documentation centre that the historical Port of Calcutta (Kolkata) is building up, would be proud and thankful to display such material to posterity. If there is a familial shipping record, a journal, a sketch , a cargo manifest or even a scrapbook of the eighteenth, nineteenth or early twentieth century which one might be willing to bequeath or send a photocopy of, we shall be grateful.
Kenneth Paes, Australia - Wednesday, August 8, 2007 at 11:26:54
I was a crew member of the ms Bankura in the early ninteen sixties I would like to have an extract from the BI Magazines showing my name as a crew member. My rank was senior officer Purser.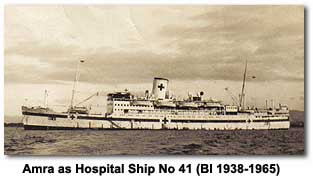 John Engel, South Africa,- Saturday, August 4, 2007 at 22:24:11
My father who is still alive served as an orderly during World War 2 on the hospital ship Amra. He has a number of photographs. I was wondering whether I could send some of these photographs and whether others would recognise family members on the photos and advise me of their names. [As a hospital ship in WWII, Amra served in East Africa and the Mediterranean, where she evacuated wounded from the Sicily and Salerno landings - Editor. Photo: John Engel's collection]
Patrick Malone, UK - Friday, August 3, 2007 at 20:06:05


I'm helping a man called Alan Bristow with some research for his autobiography. As a cadet on ss Matiana Alan was torpedoed on his first voyage, but the ship did not sink. It limped into Montreal and had a new bow put on, a job that took four months. Alan was aboard the ss Chyebassa at the evacuation of Rangoon and was later sunk [by gunfire from a Japanese cruiser] on ss Malda in the Bay of Bengal in 1942, and again on the ship taking him home on survivor's leave, which we think was called the ss Hatarana [torpedoed by U214 in the North Atlantic, Aug 18, 1942] . He was credited with shooting down two Stukas with an Oerlikon from the forepeak of an ammunition ship during the landings in North Africa. He joined the Fleet Air Arm in 1943, where he flew Seafires and learned to fly helicopters. Heís hazy about dates and places between 1940 and 1942. Can anyone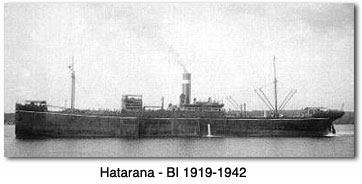 help me reconstruct the movements of the Matiana from about April 1941 to mid-1943? Alan was credited with shooting down two Stukas from the forepeak of a BI ship in Bougie Bay, Algeria, on the ammunition run to support the North Africa landings. Can anyone tell me which BI ships did the ammo run to North Africa?
And if anyone knew Cadet Bristow during those years, I'd be pleased to hear from them.
Mike Cass, UK - Tuesday, July 31, 2007 at 20:36:58
I'm trying to fill some gaps in my late father's RN career when he travelled by troopships between ships in ports on different continents. I do not know if they were BI vessels or not, but I am hoping someone out there in the BI world can point me in the right direction if the troopships he travelled on were not BI's. The first date is 08 Dec 1945 from Sydney to Hong Kong. The second, 29 Apr 1946 from Bizerte (N Africa) to the UK and the third and last 14 Dec 1949 Singapore to the UK. Sailings would be on that day or perhaps a day or two later. Having done a search I know that BI was involved in trooping. Many thanks in advance that someone can come up with some info me. [If the names of the vessels are known, you can check the BI fleet lists on this site. Laxon & Perry's British India Steam Navigation Co book covers BI's and BI ships' trooping and government contracts quite comprehensively. Other books mentioned on our bibliography page might also be of use - Editor]
Peter Hackling, UK - Sunday, July 29, 2007 at 19:05:50


Can John or Michael Tilling contact me. I am interested in the ss TP Tilling. The first ship to sail into Newport Docks on the 3rd of September 1939 was the TP Tilling. I dont know if this was with BI. I wanted to ask the gentlemen related to Mr Tilling, about the ship and whethera photo exists? Did the ship survive the war and who was TP Tilling? [re logentries December 27, 2004 and November 25, 2003 regarding Abhona. TP Tilling was not a BI ship]
Bertram Witon-King UK - Friday, July 27, 2007 at 19:07:10


Researching an address on my grand/parents' marriage cert dated 1912 ss Bhadra Head Quarters Rangoon. Anybody out there know of this address, names Bertram Wilton King, Margaret Evalena Bennett . Bertram was entered as an Engineer, did he work for BI? [The diminutive Bhadra (599 gt) was indeed a ship in the company's service from 1901 to 1919, and was employed on the Burma coast from 1908 to 1914 - Editor]
Derek Hargreaves, UK - Thursday, 26 Jul 2007 17:12:13


Reference Mike Smith's interest in Tanda. The following is abridged from the book, BISN Co, by Laxon & Perry. Built 1914 for BI's Calcutta-Far East service, Tanda was taken over by Indian authorities, converted to hospital ship duties and renamed Madras. She was returned to BI in November 1919, resumed her Calcutta-Far East service and re-acquired her original name, Tanda. New BI ships made Tanda redundant and she was sold to Eastern & Australian SS Co in 1924. Following the outbreak of WW2 she was requisitioned to provide passenger and cargo services between Australian and Indian ports. She was torpedoed and sunk by U-181 off Mangalore on 15.7.44 en route from Colombo to Bombay and carrying a crew of 177, 12 gunners and 27 passengers, with 18 crew and 1 passenger losing their lives. The remainder were rescued by HMIS Bihar and landed at Colombo.
Terry Gardner, Canada - Thursday, July 26, 2007 at 05:19:25


Re Jennifer Dierckx de Casterle of July 18. I may be able to help as I served on Okhla from 1958 to 1961, when Capt R Higgins took over from Capt Jack Singer. I was not on board when she was in Mozambique however. What do you need to know?
Kenneth Milne, UK - Wednesday, July 25, 2007 at 10:10:45
I would very much like to know more about the - Karagola, Varela & Aronda - BI Ships I sailed on during 1940's. I understand Jim Corbett (of maneater fame) travelled on the Aronda. Thank you and Regards.
...sign the logbook

Sam Ramlochun, UK - Monday, July 23, 2007 at 12:52:46


My interest is with Warora Ship no.1367 trip from India to Mauritius - arriving in Mauritius approx.on 12.6.1895.
Mike Smith, UK - Sunday, July 22, 2007 at 12:23:54
My mother was on the ss Tanda travelling from Australia to India when the ship was torpedoed and I'd be interested if anyone has a picture or any other details about the ship.
Emma Hall, UK - Friday, July 20, 2007 at 14:13:15
I would like to get in touch with anyone who knows about HMS Janus. i believe my grandad (Ronald Gordon Rumble) served on this ship in WW2 and im trying to contact anyone who might know him or have any infomation. Thank you all very much. [HMS Janus was a Royal Navy destroyer in WW2 with no connection to BI's ship of the same name - Editor]
Bar (Paddy) Mawhirt, UK - Thursday, July 19, 2007 at 17:39:41
Interested in reunions - anyone who sailed with me in BI 1961-1970
Albert Forsyth, UK - Wednesday, July 18, 2007 at 15:44:57


I travelled home from Hong Kong on HMT Nevasa in Dec 1956 (part of its maiden voyage) Can someone please tell me the name of the captain at that time.
Jennifer Dierckx de Casterle, Mozambique - Wednesday, July 18, 2007 at 11:18:49
I would be interested in receiving any information on the BI ship, the ss Okhla, that docked on Mozambique Island in 196l to be included in the newly renovated Maritime Museum. Her Captain, Robert Higgins, is buried in the local cemetery.
John Delacruz, UK - Tuesday, July 17, 2007 at 23:27:34
For many years was led to believe great grandfather was on ss Mauora in 1881 census. Only after checking original handwritten record did I realise that vessel as Manora. Pleased to find your site. Anybody know if crew lists still exist?
Robert Bruce-Chwatt, UK Sunday, July 15, 2007 at 21:34:10
Rather fun! I was ship's surgeon to Uganda when she was in the South Atlantic to the Falklands
Frank McKay, Sweden - Saturday, July 14, 2007 at 06:06:55


Keith (pubes) Purvis [re May 26, 2007 entry]. When did you move to Oz? How are the rest of the Lynx crowd in Wellington? Hi Mitch. Cheers, Frank
Derek Hargreaves, UK - Sunday, July 8, 2007 at 15:53:44


Reference Christine Swift's query of June 6th [2007]. I do not think that there is any easy way to trace her grandfatherís career in BI but a call to P & O would confirm this. There may be some information in the National Maritime Museum, Greenwich. If you can find Research Guide 13 by looking through Google, search "Register of Shipping and Seamen". It has the following entry under Additional Material - British India Steam Navigation Company. Records of commanders, officers, engineers, cadets and stewards 1868 to 1957 are contained in 40 volumes
I imagine it would have to be a lengthy DIY search or the employment of a professional researcher but the NMM should be able to steer you in the right direction. I , and I think this site, would be grateful to hear of any success you have - Good Luck! [Christine, please do let the Logbook know how you fare with your enquiries - Editor]
Frank Ayres, Australia - Sunday, July 8, 2007 at 06:17:44
Have been reading back though the log book and see some of my old shipmates among the many memories would like to hear from any who remember me
Keith Harmer, UK - Saturday, July 7, 2007 at 22:16:34
Having left the company in August 1974 on completion of my apprenticeship it brings some fond memories. Thank you.
Malcolm Longhurst, UK - Friday, July 6, 2007 at 18:36:26


For Catherine Chenells [re entry of Jun 27, 2007] A pal of mine was stationed with Coastal Command in Sharjah late 60's early 70's. He has one or two anecdotes which might be of interest one of which is that Bob Hope was on his way to Vietnam and had to make a stopover at Sharjah. The officers mess quickly ran a "Welcome Banner" which read 'Welcome Bing Crosby' He has other stories and if it is of interest you can reach me [via this logbook page] Regards Bunny
Mike Feltham, UK - Friday, July 6, 2007 at 11:12:26
I was with BI from 49 to 61.
Marion(kyra) Walshe, UK - Friday, July 6, 2007 at 09:59:34


Looking to find a crew member from Nevasa, around the time of 1958 - 61. His name is John Parker from Bristol, 4th engineer out of Southampton.
Hansa Hemchand Gudka, UK - Thursday, July 5, 2007 at 18:39:58
I am 77 years old plus. I get a poor memory about my journey Mombasa to Bombay by sea dated 16/5/64 i need a ship name and my journey record
John Dodsworth, UK - Tuesday, July 3, 2007 at 19:48:44
Thoroughly enjoyed bringing back memories
Kenneth Hodge, UK - Sunday, July 1, 2007 at 23:45:03


I would like to contact Captain Brian Agnew, whose name was mentioned on this list [see entry of July 30, 2006]. I was an Ordinary Seaman on the Gothic when she caught fire. The decisions made by Captain Agnew probably saved my life. (Terry Lilley referred me to this site and Ian WcWhannell with whom we both sailed on Chindwara. Ian, I thought you were apple farming in NZ when you flew over me in Gothic in '68 after the fire? Delighted if you can get in touch.)
Barry Penrose, Australia - Sunday, July 1, 2007 at 14:42:55
I served on a vessel chartered to BI in the 60's carrying cargo from UK/Continent to
Red Sea ports Aden Djibouti India Ceylon name of vessel was the Dunelmia
David Iredale, Australia - Sunday, July 1, 2007 at 13:36:15
I was one of the last Engineer Cadets starting in 1971 @ SSMTC Sailed on the Mulbera 1973, Strathmore (Morvada) 1976/8 & Dwarka 1980
Toni Hull, US - Sunday, July 1, 2007 at 12:09:01
I have found comfirmation that my father in law was on the Banfora while sailing with the convoy KMF-26 [see entry of Feb 8, 2007]. This convoy was attacked on November 26,1943 and HMT Rohna was sunk at that time. I am looking for any type of information about the Banfora or the time of the sinking from anyone, either family or crew members.
Tom Kelso, UK - Sat Jun 30, 2007 09:35 (posted in BI Staff group)


For Shri Biswajit Pakrashi: Reading your message [Jun 29, 2007], I thoroughly agree that the history of the Hooghly Pilot Service (or Bengal Pilot Service as I knew it) is intimately tied up with that of BI. Unlike many of my colleagues/shipmates of the past, I made relatively few visits to Calcutta during my BI career, perhaps no more than a dozen, but in my earlier days, I was "fed" by my seniors, [mostly hoary old Chief Officers in their late forties still awaiting promotion], a number of 'stories' regarding this pilotage service, principally regarding the aloof attitude of the British pilots pre-1947! They apparently regarded themselves as Bot Bot Burra Sahibs! and like the British/French Suez Canal Pilots regarded themselves as indispensable! While on my Hooghly transits in Pachumba, Palamcotta, Chantala, Sirdhana et al, I was never actually aware of this attitude, and methinks it disappeared with the departure of the Britsih-born incumbents, the previous tradition among other things included the pilot boarding at the Sandheads (still in oar-propelled boats in my day) from the cutter, accompanied by his apprentice, leadsman and personal servant plus several wooden chests which apparently included his several changes of No.10's (all recently dhobied onboard the cutter), his bedroll and mosquito net, and the makings of his meals while onboard! ...though I understand some of these illustrious pilots would deign, on occasion, to accept the offerings on the BI Rangoon mail ships!
To get to the point, some time in the 1950's, in my local public library in Glasgow I found a book, probably written in the 20's or 30's, written by a Bengal pilot, giving an autobiographical account of his career. With great regret I did not note its title or its author and wonder if you could give me a lead to the possible title of this book. I might then just manage to locate it in a second-hand book shop hereabouts! Regards and salaams.
Tom Kelso, UK - Saturday, June 30, 2007 at 07:18:42


In reply to the inquiry from Catherine Chennels of 27th June 2007 re BI connections with Sharjah, there is an entry in Laxon & Perry page174, to the effect that after ss Amra was sold for demolition in 1965, her bell "was later installed in the church at Sharjah shared by the Royal Air Force and the Trucial Oman Scouts." As far as I know, Amra had no connection with trading in the Gulf, nor during her WW2 service as a troopships and later as an (South African) hospital ship.
Biswajit Pakrashi, Kolkata - Friday, June 29, 2007 at 06:59:20
The history of BI is not complete without Calcutta port! History of BI ships is closely associated with the Hooghly Pilots. I have been a Hooghly pilot for the last twenty years and am keenly interested in the maritime history of the Hooghly river. Will certainly look for more exciting information from you! Thanks !
Catherine Chennells, UAE - Wednesday, June 27, 2007 at 21:05:56
Looking for info for new maritime museum in Sharjah any recolections welcome, can you help with Sharjah specific memories?
Mike Mercier, UK - Saturday, June 23, 2007 at 19:45:50


My father was on the Madura on her epic voyage via Bordeaux in 1940. I have in my possesion an original newspaper cutting giving details of same. I also have an original passenger list. In your log a gentleman called Peter Wilkinson of the Bahamas was requesting (in November 2004) information of this voyage. If he contacts me I will be very pleased to send copies of the above mentioned items. [Please contact site editor as the cutting and information you have will probably be of interest to a wider audience - Editor]
Tim Crosby, Australia - Sunday, June 17, 2007 at 03:50:36
My father James Crosby served on the Jumna during WW2. I am trying to find out more information on the ship and my father's role. Can anyone point me in the right direction on where to start.
George Gay, UK - Wednesday, June 13, 2007 at 18:32:37


My home is named HATIPARA, and we understand it was named after the original owners son served on the vessel, our home was built in 1922. if there are any photographs of the ship we would be grateful to see them
Melanie Smith-Drake, US - Monday, June 11, 2007 at 17:53:05
I recently was looking through some of my Dad's things from England, I came across a wooden plaque from the ss Ranpura, on the back it says 1954-1955. Does anyone know anything about this plaque. [Ranpura was a P&O, and not BI, ship- Editor]
David Stephens, UK - Monday, June 11, 2007 at 17:48:21
Served as 3rd R/O on ss Kenya from Jan 1955 to June 1956. Great memories.
...sign the logbook

Ashok Sarin, US - Saturday, June 9, 2007 at 23:27:49
A Glimpse into BI Ships website churns up memories of ways back in time of July 1955 and September 1958 when I sailed on two of its ships, ss Santhia and ss Sangola as a tiny tot passenger respectively. I will like to know all about both ship's particulars and all crew members of those years who sailed on ships and like to have a mometo of passenger who sailed during the stated months and years. I will also like to know how I can get some of BI insignia. [BI memorabilia comes up for sale on eBay from time to time - Editor]
Christine Swift, UK - Wednesday, June 6, 2007 at 10:31:11
I am researching my grandfather's life. He was a Master for BI. His name was Wilfred Benson Tingle, he died in 1942 when the ship he was travelling home on (as a passenger, SS City of Cairo, not a BI) was torpedoed in the Atlantic. Where on this site are the lists of masters? Can anyone give me any information about my grandfather. [Lists of BI Commanders for some years are available on this site]
Terry Gardner, Canada - Monday, June 4, 2007 at 03:34:46
Interesting to see your response Don (Leslie) re Okhla. You were there near the end of my time on her, Robbie Higgins was Master then, I was just the R/O, I guess the end of 1960/61. Best regards.
Penelope Marmion, Australia - Saturday, June 2, 2007 at 04:23:04
I have only just discovered this site. I am researching family history for my new granddaughters in England and wondered where I could obtain information regarding my grandfather John Henry Marmion, Waterloo England? [Was John Marmion on BI staff? - Editor]
Jane Crane, UK - Friday, June 1, 2007 at 16:51:34


Did anyone work on the hospital ship Tairea from September to December 1945, repatriating prisoners of war between Bombay and Singapore? My mother, Angela Prebble, was a QAIMNS nurse on board at this time, and had some wonderful stories to tell! I would love to know more.
Mark Sanderson, UK - Wednesday, May 30, 2007 at 21:42:55
Looking for information and photos of ss Chilka (3rd version) that was sunk by Japanese submarine I-2 west of sumatra on 11th march, 1942. My grandfather Thomas Sanderson was engineering officer on board at the time. According to family records he and some shipmates were adrift on one of ships lifeboats for 38 days before rescue. [Valiant Voyaging (pp 128-130) has an account of this action]
Stewart Males, UK - Wednesday, May 30, 2007 at 20:45:35
Chantala 1958 to 1961
Donald Leslie, Australia - Wednesday, May 30, 2007 at 11:24:38
Fond memories stirred by current photo - Okhla
Mitch Smailes, New Zealand - Tuesday, May 29, 2007 at 01:34:24
g'day Keith Purvis, can you remember when we were on the Hertford 1973 with Pete the feet and co??? And then later on the Mahia in the port of Napier. If you ever get back to NZ look me up and Joe Abela. Hope you are keeping well and safe over there!
Aloke Kumar, India - Monday, May 28, 2007 at 07:00:56
My father late Nirmal Chandra Kumar owned a rare bookshop in Calcutta. He had purchased a rare elephantine folio of the works of Daniell which was booked in one of the ships of Mackinnon Mackenzie d around 1960. I am trying to get the details.
Terry Gardner, Canad - Monday, May 28, 2007 at 03:26:32
Re Robert Vaughan's note re Basra, When I was there in the late 50's/early 60's, the Port Club was a favourite haunt, as was the Alfaraby Club. Then King Hussain was toppled and it all changed. Memories.
Keith Purvis, Australia - Saturday, May 26, 2007 at 11:39:56
Sailed on Chakdina early 70s NZSCo man one of the first on BI after amalgamation took my wife Christiene, Captain Jan Scaoski [Sokalski?]
Robert Vaughan, UK - Thursday, May 24, 2007 at 20:50:15


Hello Tony [Henley], we sailed together on Dumra around 1970/71, our link is through John (why do you call your dog "porky") Smith, he kept me informed as to your whereabouts for a few years after I left B.I. If Mary Watson was sixteen in 1973 then the photo i have is not her, it was taken whilst anchored off Muscat and Peter Chib is also on it, if i ever become more adept with this lap top then i will try to send it to you. Can you imagine going ashore in Basrah today to get the Chicken we used to get for the parties we had on board, great days eh.
Susan Sanders, UK - Saturday, May 19, 2007 at 23:33:06


I am seeking any information available on a voyage the Ellora made in 1880 from Calcutta to British Guiana carrying indentured labourers. My Great Grandfather was a boy of 9 and was one of the passengers.
David Aiken, UK - Saturday, May 19, 2007 at 11:59:15
Re Faith Boston looking for a picture of the Manora. I was directed by Derek Hargreaves as given below (see log book entries) to find a book containing a picture and details of the Manora which you may view at your library.
Ray Dadge, UK - Wednesday, May 16, 2007 at 17:03:31
My father sailed on HMS Karanja from Glasgow to Durban and Madagascar as part of the 29yj Independant Brigade in 1942. As an ex-merchant seaman I would like to obtain a photograph.
Christopher Barnes, Kenya - Sunday, May 13, 2007 at 00:05:50
Cadet Chindwara 1967 until seconded ashore in 1977 and never got the feet wet again. Now running a container feeder compay in East Africa
Jane Wentford, UK - Friday, May 11, 2007 at 12:10:51
Have discovered a relation, John Wentford, travelled to Brisbane on the Chyebassa in 1882. Still trying to discover information on how he paid for the passage.
Tony Henley - Wednesday, May 9, 2007 at 16:04:15


Replying to Mary Watson: Of course I remember you now, I didn't recognise the name when I first saw it, because presumably Watson is your married name. I remember Mrs and Miss Kahn, if i remember correctly. I certainly remember that trip because of you and your mother and of course the riot with the UAE deportees.
Mary Watson, UK - Tuesday, May 8, 2007 at 17:57:33
Answer to Robert Vaughn, writing in 2006. You refer to a photo taken off Muscat, that was the first port after Karachi. What were you doing on board? I sailed on the Dumra and the Dwarka quite a few times between Bombay and the Gulf. Do you remember the 'hole in the wall' off Muscat?
Mary Watson, UK - Tuesday, May 8, 2007 at 03:11:21


I can't believe I have found 'Tony' Henley. I sailed with you and Ali Eames on Dwarka in 1973, September. Hazel (my mum), and I were the only 'ingrese' women on board. We had a riot between the deck passengers over the deportees from Dubai. It was a Friday lunch-time, and we were eating our fish when the cook comes into the room covered in blood. I was 16. We left the ship in Khorramshah. Remember?
Ray Dadge, UK - Monday, May 7, 2007 at 11:33:59
A wonderful record a great steam ship company.
Nikki Lawless, Germany - Thursday, May 3, 2007 at 19:49:00
My Father is the afore mentioned Bill Moody whose first ship Chantala has a magazine, he will be recieveing this page and the magazines as a present for his 65 birthday on Monday. I am hoping to change his views on the internet and PC's so maybe he will post himself on here in the very near future. [He may also, if he wishes, join the online BI staff group - Editor]
...sign the logbook

Faith Boston, UK - Sunday, April 29, 2007 at 22:50:35
I had a great uncle called Donald Maclean that travelled on the Manora during the late 1800's. He took passage to India and was a Manager of a Tea Estate in the Western Dooars region. If I can find a photo of this ship I would be very pleased.
Marlene Burdett, UK - Friday, April 27, 2007 at 22:33:15
Can anyone help me. I am trying to find out what ship/boat my g.grandfather Michael Black was an able seaman on. He was born about 1868 and ran away from Londonderry to sea when he was 14yrs.old.
Penny Beresford, UK - Friday, April 27, 2007 at 18:06:28
I would like to thank all the BI members who have written me such thoughtful and touching messages regarding their memories of Peter Beresford, who died recently. Some have been sent to me personally, and some forwarded by John Prescott. I would be happy for John to pass on my email address if anyone wanted to write direct to me. I would also like to thank John, because the website is excellent, and demonstrates the very special bond that members of BI's fleet so obviously have. Thank you again to all of you.
Bryan Rodgers, Australia - Friday, April 27, 2007 at 00:51:56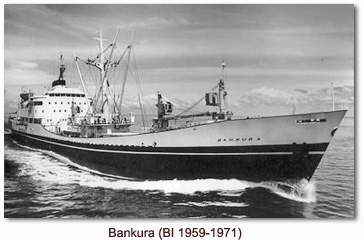 I would like to get in touch with Ken Skinner and George Burns we sailed on the Bankura together.
Alan Campbell, UK - Thursday, April 26, 2007 at 00:16:07


Father was marine engineer from Glasgow with BI pre World War Two up to 1941 when injured. Have some photograhic record of ships he sailed on with his widow (my mother) still. I am interested in any sources of information/ or even people who may still survive from that time that could help me fill gaps in my knowledge about his life.
His name was Duncan Campbell (b.13-05-1913 -d.1974)
Gwyn Lewis, UK - Wednesday, April 25, 2007 at 21:44:45
Great site. Brings back memories of my days on the Howra and Juwara. Now retired and travelling around the UK as a jazz musician with New Orleans Heat.
Jack Wright, UK - Tuesday, April 24, 2007 at 15:03:14
Have just found this site and spent some 3 hours having a laugh (thinking about old times) well done to all those responsible. Saw some old BoT aquaintancies mentioned eg Willie Cameron : Pete Durham : Bill Davidson. Will visit the site again. Lang may your lum reek!.
Chris Keir, New Zealand - Tuesday, April 24, 2007 at 02:43:32


I have been trying to find information about two different Thomas Thyne's both reputed to be Captains and notice on here a note by a John Thyne Nov 29 2003. I was wondering if there was a way I could contact him.
George Carr, Australia - Sunday, April 22, 2007 at 07:29:37
I am researching my grandfather's records as an engineer from 1899 to 1904 on 11 ships and have found some very interesting records of his sea time. I have found your site also interesting and have found some of the ships he served on. thankyou.
Patricia Graf, Canada - Saturday, April 21, 2007 at 22:33:15
My father, Eric Turl, served as wireless operator on the ss Nirpura in 1937-38. I know he spent most of that time around the Indian sub-continent and southeast seas. I would like to know more about this ship's routes and function.
Timothy Alan Comyn, France - Saturday, April 21, 2007 at 20:32:54


Would like to hear from any one on Chindwara early sixties, and later in Bombay Pat McCallister. and those who served on the Sir Galahad
Bryan Rodgers, Australia - Saturday, April 21, 2007 at 05:32:06


I would like to get in touch with Michael Roper [see entry of Jan 4, 2007], John and Ann Quinn and Sandy, we were on the Zaida together.
Susan Sanders, UK - Wednesday, April 18, 2007 at 22:09:25
I am interested in learning more about the Ellora voyage that sailed from India to British Guina [Guyana?] in about 1879. If you have any information, or know where I can get information, I would be very pleased to hear from you.
Gehan Anthony (Tony) Ekneligoda, Australia - Wednesday, April 18, 2007 at 08:58:58
Would like to hear from some ex-ship mates (Karanja, Nowshera, Nyanza & Purnea)
For the record I am still at sea.
Penny Beresford, UK - Sunday, April 15, 2007 at 22:52:30
I wanted to let BI members know the very sad news that my husband, Peter Beresford, died on 22nd November 2006 after a very brave two year fight against lung cancer which was diagnosed out of the blue. Up to November 2004, Peter had seemed very fit and was working as a master on large LPG tankers for Bergesen Worldwide Shipping. He died two weeks before his 59th birthday. Peter commenced his long career at sea in November 1964 as a deck cadet on the Chantala. Since his death I have found his handwritten journals from his time as a cadet and can see that he was also on the Dunera, the Chandpara and the Chinkoa. The journals made very poignant reading. I miss Peter so much and would be glad to hear from anyone who has memories of him they could share with me. Many thanks.
David Aiken, UK - Saturday, April 14, 2007 at 14:44:27
I am looking for my granfather, Alexander Aiken, who I believe worked for BI in and around 1900. A photograph of him in uniform shows the sleeve of his coat to have two outer thick rings with a centre thinner ring. The photograph was taken by Anglo - American Photo Studio - Port Said. Any help or advice would be much appreciated.
John Robertson, US - Saturday, April 14, 2007 at 05:59:59
Sailed with BI from 1951 to 1963. Was 2E/O on Chantala and Chilka. Mainly on Gulf Ds but spent three years on the Dunera. The BI was a wonderful experience and all of my shipmates were like family. I would like to hear from any friends from the past.
Ian Robertson, Australia - Thursday, April 12, 2007 at 14:47:54
The recent confrontation between Britain and Iran, over the detention of 15 British sailors, reminds me of an incident involving the Dwarka some 54 years ago when, in a reverse situation, we were accused of kidnapping an Iranian naval officer.
In early 1953 the Dwarka called at Bushire as the last port prior to Basra. The first persons to board were the Port Captain, an Iranian naval officer, along with a couple of policemen and Custom officials. After clearance we commenced loading asafoetida (sometimes known as stinking gum) into the after holds. Many of the deck [unberthed] passengers had camped on the top deck to escape the humid conditions prevailing below decks. This put them in close proximity slings of cargo being lifted out of the lighters, across the top deck and into the holds.
Suddenly there was a great hullabaloo on the after deck. The Chief Officer went aft to see what had happened and saw a local stevedore holding a loosened derrick guy. This had allowed the derrick to swing, causing a sling of cargo to dip and plough through a group of nearby passengers. Impetuously the Chief Officer went over and hit the stevedore. Obviously the wrong thing to do, but we had all experienced months of aggravation and provacation in Iranian ports and our nerves were stretched tight.
The Port Captain ordered work stopped and sent the lighters and labour back to shore, with instructions for an armed party to return to arrest the chief officer. Due to the distance we were anchored offshore this would take well over an hour for the return trip. Only the Port Captain and one unarmed policemen remained on board.
The Captain did his best to placate the Port Captain but he would not bend, remaining adamant that the C/O was bound for an Iranian goal. This was not a prospect to be taken lightly. British subjects serving time in Iranian goals had experienced some very harsh treatment.
As 3/O, I was keeping anchor watch on the bridge. When I reported to the Captain that a launch had left the shore with armed troops aboard, he told me to call stations quietly and to put the engine room on standby. We then weighed anchor slowly and quietly and when aweigh, put the engines to full ahead and headed for the Shatt al-Arab river and Basra, still with the two Iranian officials on board. Wireless messages were sent overnight to our Basra agents, advising of the developments and the next day, as we steamed past Abadan, a launch came alongside, the two Iranian officials were bundled into it, and we continued up river to Basra. On arrival there we found we were starring in an international incident, with accusations of kidnapping the Iranian officials being made in the United Nations, together with threats that, on our way back down river, we would be intercepted by the Iranian Navy at Abadan and the Chief Officer forcibly removed.
The Chief Officer was taken off the ship in Basra, and flown back to Bombay, while HMS Wild Goose, a Royal Navy sloop stationed at Bahrain, was sent up to Basra. When we duly departed Basra, Wild Goose followed close astern. For some reason the Iranian Navy decided not to intercept us as we passed Abadan and we resumed our normal passage back to Bombay. The Chief Officer was transferred to another service and eventually the fury and fuss died down.
David Aiken, UK -Thursday, April 12, 2007 at 09:20:20
I would like to thank Derek Hargreaves for his help in finding details on the ss Manora
Jason Julier, UK - Tuesday, April 10, 2007 at 19:45:11


Can anyone help? I'm trying to obtain a photograph of the original Nowshera built in Glasgow in 1883?
Ian Robertson, Australia - Monday, April 9, 2007 at 13:50:20
Subsequent to my recent posting re 'kidnapping' Iranian officials from Bushire on the Dwarka, I found an entry dated 1/05/06 from Ian McWhannell indicating that he was a cadet on the Dwarka at the time. He thought it was 51/52, my memory says '53 but do not have a firm date. I joined Dwarka 21/10/52 and left 6/04/53 so it could have been late '52. However I remember that the same Chief Officer was also involved in a drama we had in Mina Al Ahmadi on Xmas night '52 so pretty confident the Bushire incident was 1Q/53. But does it really matter after all these years?
Dilip (Joe) Dcruz, UK - Monday, April 9, 2007 at 13:45:58
Passenger in march 1970 on ss Kampala Mombasa to Bombay. With Lennie D'Cruz and Francis Lobo. What a bitter sweet journey; I didnt realise I was never to return to Uganda. A boy of 16, I left home in Uganda for an Indian education. The ss Kampala was my first trip on a boat, my first sight of an ocean, and my first (and only) trans-oceanic journey. My memories of the Seychelles emerging from the morning mists, and the experience of a tremendous storm mid sea, with gigantic waves crashing over the bow of the ship will always remain with me, now 53 years old.
...sign the logbook

John Major, UK - Saturday, April 7, 2007 at 17:54:11


Cap badges, blazer badges and shields are readily available from thegoldwirebadge.co.uk [response for Audrey Stevenson, March 28, 2007 entry]
Akber Shamji, US - Saturday, April 7, 2007 at 13:29:32
Does anybody know where Eddie Richardson is? We were great friends on mv Chakrata in 1961 where he was a cadet and I was a Trainee Purser with Senior Purser Leslie Amaral.
Ian Robertson, Australia - Saturday, April 7, 2007 at 08:12:24
For the first time in many years I had occasion to refresh some memories from my BI days (1952-1955) and stumbled on this site. Fantastic! Has brought back many pleasant memories and I've already found associated log entries. as follows:
Lou Chambers from Perth on 23/3/05 mentioned her Mum and Dad, Margaret and Harry. Harry (Digger) Chambers achieved a level of fame by being jabbed in the buttock by a Persian bayonet. Margaret was/is a lovely ex-Orient Line FAP who Harry wooed and wed, He and I sailed together on the Chindwara from UK to East Africa and UK-Australia. If Lou sees this and they are both still around please give them my fondest.
Speaking of Chindwara, there is a current year entry from John White who mentions Ben Rodgers as Captain and Dusty Miller. They were both there in my time,1/54 to 3/55, so perhaps John and I were contempories.
Also on 12.3.05 Ian Rankin asked about Ernie Ashby. He was Master of the Devanah, a P&O ship chartered to the BI. She was being returned to the P&O so they filled her up with Eastern Service personnel due for home leave or in my case going to the UK to do my 1st Mates certificate at Warsash. Ernie was the Master for that voyage, an interesting character to say the least.
Ah! memories. I can see I have quite a few hours of browsing ahead of me.
Athol Johnson, New Zealand - Saturday, April 7, 2007 at 00:33:41
Have a jigsaw that belonged to my dad got wonderring how old it was i used to love doing it when i was a kid. The Matiana looks a beautiful ship. The jigsaw is complete in original box made by Chad Valley Ltd. Hope some one can help with age as my grand kids are courious as well.
Alana Ellis - Friday, April 6, 2007 at 18:33:51
Was Assmat aboard Uganda 81-83 so many memories Christmas day curry in Captains quarters. Matron Marge - you knew she was the BOSS! Joan, Hilke, Jane, Alison a few other Assmats and bank staff. Doing the ship panto Robinson Crusoe..making scenery with Rodger Knight, [Jim] Furlong as Man Friday, David Baskott Cannabil Chief,..one of many great memories of a special time in my life..to get paid to see places and enjoy working with great people as well.
Duncan Walker, UK - Friday, April 6, 2007 at 16:40:01
I am looking for any information about my great great uncle Edward Duncan Walker or his ship, Bancora. He was 2nd Officer and died in 1894. He was buried at Moulmein. I have a photo of the grave which says: "Died at Moulmein 19th may 1894. This stone is erected as a mark of respect by his shipmates and brother officers of the B.I.S.N. Co." The Royal Geographical Society is also engraved on the stone.
Kenneth Smith, UK - Tuesday, April 3, 2007 at 14:42:34
I joined Chantala as a Deck Cadet in 1956
Margaret Fussey, UK - Monday, April 2, 2007 at 00:34:51
Sailed as bank representative 1969 associated with purser and bureau staff
Wal Allis, UK - Sunday, April 1, 2007 at 17:26:05
I was a visitor to BIship site on 7th July 2004. I have relised I did not include a homeward bound trip I made with Nowshera (1963-1964). I joined her in Madras and on the way home there was a very sad occasion, one of the seamen died of a heart attack. We did get assistance from an RN destroyer which was in the area, but the doctor was unable to save him. We had a burial service at sea shortly after. I wonder if anyone else can remeber this.
Modhar al Edreeci, Iraq - Sunday, April 1, 2007 at 06:58:48
Any iformation about the name pilot in Shatt al Arab (Haje Mohammad Idric) in 1918 and any informashion you want from my side i can give you.
Abdul Haji, UK - Thursday, March 29, 2007 at 20:02:17
Would like to know about records of people leaving India for east Africa in the year 1920-1930.
Russell Parkins, UK - Thursday, March 29, 2007 at 19:26:14
Have moved house and found a bench made from teak from the Vasna trying to find pictures and info about this [ship].
Bob Readman, UK - Thursday, March 29, 2007 at 15:03:24
Message for Dan Taylor. Have only just seen your entry for January this year. Am very interested in the photos of Booldana, Landaura and Virawa. Please advise if you are offering them (or copies of same) for sale.
Audrey Stevenson, UK - Wednesday, March 28, 2007 at 11:18:31


Does anyone know where I can buy a BI blazer badge for my husband. He started his MN career with BI and ended up as a Chief Engineer with P&O.
Olivia Firth, UK - Tuesday, March 27, 2007 at 18:25:25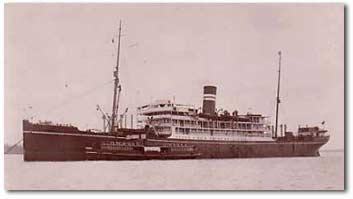 Re Madura, I have a note of my grandfather sailing on it as a cook in April 1922 but would like to know where. I'm also trying to track down his route on Nevasa (the vessel built 1912) after which he was discharged 1926. Any help appreciated. [A photo of Madura, owned by BI between 1921 and 1953, is shown on the right]
Grace Magnaye, Dubai - Tuesday, March 27, 2007 at 09:58:31
I'm just interested in Dwarka and Dumra. How they look like? Have you kept a copy of images of those boats because I've heard a lot about it.
Bakul Rach, UK - Saturday, March 24, 2007 at 19:40:44
It brought memories of my travels in Kampala, Karanja and Amra as a young boy in 1960, 1969 and 1970 between Mombasa and Bombay
Rosemary Colston, US - Saturday, March 24, 2007 at 17:28:05
My grandmother survived the sinking by torpedo of the Rajputana [P&O vessel, see log entry May 23, 2006]. She was, I believe, chief stewardess. Her name was Mary Ann Rogers; but she may have been known as Mary Ann Pennington or even by her maiden name of Mary Ann Turner. She married Richard Rogers either just before or just after the Rajputana sinking. I am trying to find any info about her.
Derek Hargreaves, UK - Friday, March 23, 2007 at 21:00:43


In February 2006, Gillean White was looking for connections between signatories of a Scottish quaiche and her grandfather.
Islay Kerr was identified and now, the list of Commanders in the History section of this site, shows C S Forbes as Captain of the Waroonga in 1906 [and Warora in 1904].
This list also indicates that, in the same year, her grandfather, Captain Maurice England was in command of the Surada.
James B S Henderson remains elusive in spite the presence of three BI captains with this surname in this era namely, R B H, S H and R H.
[Thanks for another comprehensive response to a logbook query Derek. Gillean has been alerted to some of this but your theory on Henderson connections is also interesting. Does anyone have the clue to this? - Editor]
John White, Australia - Thursday, March 22, 2007 at 20:32:23
I was cadet on the Chindwara. Ben Rogers was Master. Dusty Miller bosun.
Teegan Currie, Australia - Thursday, March 22, 2007 at 03:33:11


i am currently trying to gain any information of passenger lists or about the Taroba that landed in Sydney in 1894. You see my great grandmother was born on that ship and i am trying to make a family tree but know nothing about her parents. This is of great importance to me and i have been looking for 2 years now.
Brian McLeod, UK - Wednesday, March 21, 2007 at 23:49:4
My first trip as a Deck Cadet was on the Morvada in 1974. I remember one evening after several beers we went up the funnel and painted two white stripes around the exhaust which sat about a metre above the top of the funnel. Ex BI officers thought it was great to see a BI funnel again. The old man didn't quite share the joke and the next night the white stripes were mysteriously painted over with black. (On threat of a report to head office)!
Britta Dobrinsky, Sweden - Wednesday, March 21, 2007 at 10:04:40
Thanks to the Editor for helping me about the duration of passage from UK to India in the end of 18th or beginning of 20th century! If you have more information please let me know. Hslsning/greetings
Derek Hargreaves, UK - Tuesday, March 20, 2007 at 14:50:09


Reference David Aitken's request for details of Manora. This ship is referred to in the Ships section of this site. More details can be found in the Miramar Ship Index which is easily accessed. A photograph of this ship does exist in Laxon & Perry's book B.I. if you can find a copy together with further details of the ship. Captain Wadge is also referred to in the Commanders list of this site as PL Wadge in command of Uganda in 1906
...sign the logbook

Kenneth Beadle, UK - Friday, March 16, 2007 at 14:34:43
Fifteen good years mostly in the far eastern runs, folowing farthers (Jack Beadle MBE) life. He retired in December 1959.
Khola Yasmin, UK - Wednesday, March 14, 2007 at 11:24:39


I happened to have a BI paper weight. It has a world map and a ship on it with the following text: BI Passenger & Freight services on world trade routes.
British India Steam Navigation Company Limited
Made by Novolor Ltd Gt Britain
What I wanted to know about is its history and value. I hope somebody will be able to help me.
John Brooks, UK - Sunday, March 11, 2007 at 15:15:56


My grandfather James Brown Scott sailed with BI many times in the Indian region. He died aboard Angora on voyage from Calcutta to Rangoon in December of either 1920 or 1926. He was buried at sea. Can I discover which year?
Ian Robinson, Australia - Sunday, March 11, 2007 at 02:13:35


After arriving in India Sept 1946 abord Strathmore to meet parents in Calcutta Father in REME Sailed on the Madura May 47 for Australia. Is passenger list available?
Khalid Omaira, Abu Dhabi - Thursday, March 8, 2007 at 18:09:30


I am working in a book about the postal history in the Arabian Gulf, and one of my important chapters is the British India Steam Navigation Co ship movements between Bombay, Karachi, and the Gulf ports to Busra, up and down.
What I want exactly to know is the following:-
Monthly report of the ship movements (when they start to 1945)
Dates ships start to visit each port (example: when they started calling at Dubai)
Names of the ships and pictures.
Is there any researcher who may help me getting this documents and send them to me (not free!). Is there any private or public archive of the BISN Co. that we can find this kind of information with them? Again, I am ready to cover any cost (coping, working in getting them, and shipping) of these documents.
Richard Hodgson, UK - Tuesday, March 6, 2007 at 13:25:02


Am interested in any information about Cyril Hodgson (listed on the website as Commander of Henzada in 1904).
Anthony Henley, UK - Tuesday, February 27, 2007 at 09:25:28


I stumbled on this site when i put my name into google. I found the reference to me posted by a Mary Watson in 2005. Sorry I don't remember you Mary, but I was second mate on Dumra 1970-72 then Chief Officer on Dwarka end of 1973 to early 74 before becoming a harbour pilot in Doha. Jim (Ali) Eames was security officer on Dwarka with me befor leaving around the end of 74 when he developed an ulcer. He returned with wife Mich. to UK and became a security officer in Houses of Parliament. Sadly he died of pneumonia a few years later. I still exchange Christmas cards with Mich.
David Aiken, UK - Friday, February 23, 2007 at 09:21:44
I am researching family history. My grandmother sailed on Manora on September 6th 1900 from port of London. Manora was destined for Calcutta via Suez. Her Captain's name was Wadge. Can anyone supply me with more details of this ship please - a picture would be wonderful.
Graham Smith, UK - Thursday, February 22, 2007 at 14:23:24
I am the HonSec of the Association of Old Worcesters and interesed in contact with OWs in BI.
Ron Evans, New Zealand - Tuesday, February 20, 2007 at 10:21:47 and Wednesday, February 21, 2007 at 01:11:10
Hope we can make it to UK in July 07 and to engineers reunion. ex 4eng Devonia 1962 to 1965 ron evans kiwiland.
Nice to hear from Jack Urquhart - I remember you well I think you had a bout of seasickness. Give my regards to Charlie Glen I will be in UK for 7weeks in August It would good to get in touch. Regards.
Derek Hargreaves, UK - Wednesday, February 14, 2007 at 18:12:49


Reference Brenda Cheeseman's search for her great grandfather's ship lost 1864 Bay of Bengal (Friday Jan 12 2007). The following extract from the BI Centenary book is, possibly, relevant:
The cyclone of 1864 is memorable, It originated in the region of the Andaman Islands and whirled northwards to hit the Calcutta district throughout most of the 5th day of October. Ten vessels were sunk in the Hooghly and 145 small craft swept ashore in the near neighbourhood of the city. A lightship at the mouth of the Hooghly simply disappeared. The BI lost the Rangoon mail vessel Persia off Sandheads, where the Hooghly pilots still wait in their trim cutter to take incoming ships some 100 miles up that yellow and ferociously tidal mouth of the Ganges to the docks and wharves of what used to be the Indian capital. (It is surmised that she ran into the lightship.) Four other of the company's ships were driven ashore at various points along the shore.
The Miramar Ship Index states this ship, ID 5611072, Yard No 48, built by Pile Spence of W Hartlepool, launched 18.2.63, completed 8.4.63, a passenger/cargo ship of 765 tons.
Tom Smith, Australia - Tuesday, February 13, 2007 at 03:53:39
Great website
Brian Haslam, UK - Monday, February 12, 2007 at 16:15:18
I noticed that Julian Edgoose US. Great Granfather spent many years on the Nirvana as a radio officer. My father James Haslam also was a radio officer on the same ship between 1930-1931 operating to and from Calcutta.They may have met one another at some time.
Cheryl Hopper, Australia - Monday, February 12, 2007 at 12:45:30
Is there any way of finding out the names of staff on ss Warora on the voyage from London to Brisbane, Australia, departing on 27th May 1904? [C S Forbes is named as captain of Warora in 1904 in the BI Commanders' list on this site - Editor]
John Foster, UK - Sunday, February 11, 2007 at 21:47:13
I am looking for information regarding a merchant navy chef called Mohammed Din. We know that he last sailed into Liverpool sometime between 1948 and 1950 and then moved to Birmingham where he married a Susan Burns, and where he later died in 1968. We would like to know more about him and where he came from as all of his children were put into care and so have very little information.
Dave Pollard, Australia - Sunday, February 11, 2007 at 07:05:38
Sailed with BI 1966 - 1969 on Chanda, Sir Galahad and Bombala. Great site, would like to hear from ex shipmates.
Cheryl Hopper, Australia - Saturday, February 10, 2007 at 05:15:56
Does anyone know if the ss Warora had a ship's doctor on its voyage to Australia, departing London on 3rd May 1904. I am looking for Alfred Gervase Penny MD whose wife and daughter are listed as passengers but not him.
Paul Hugill, UK - Friday, February 9, 2007 at 15:34:44
I would like to be put in touch with Dan Taylor who posted an entry in the logbook on 25th January, 2007. One of my ancestors, Capt Charles Hugill, was commander of the Booldana in 1894, and I would very much like a copy of the photo of the ship if possible.
Jack (John R) Urquhart, UK - Thursday, February 8, 2007 at 14:39:55


for Ron Evans NZ. re log entry Oct 3, 2006 Devonia, did not know this site existed until today. I was also a 5Eng from Jan 62 (Devonshire) to Jan 64. Remember your name and all the others, also Paddy Lindsay 4Eng. Tony Sowerbutts 2nd electician also Lawrie Cram MEO. I was best man at Charlie Glens wedding to May Wylie nursing sister, great to recall those memories, thanks Ron.
Toni Hull, US - Thursday, February 8, 2007 at 04:30:58


To: Armand, I saw your entry about being on the HMS Banfora at the time the Rohna was sunk. My father in law was assigned to the Rohna but was moved either to the Banfora or the Karoa. I am wanting to locate a roster of either or both ships. could you possibly be of any help to me in my search?
Glenn Livesey, Australia - Wednesday, February 7, 2007 at 10:45:25


Interested to read comment by Petrina Anderton October 31, 2006. I have a photo of a cousin Percy Livesey in the merchant navy around the time she mentions as well as a burial entry in a bible for a Peter Livesey buried at sea. Would like to hear from her.
Ciraz Mussa Mahomed, UK - Sunday, February 4, 2007 at 17:49:43
I would like to have more information on Tilawa 1925-1942 which was torpedoed and sunk by Japanese submarine I-29 in the Indian Ocean. I had five members of my family on board, one of which was my grandfather who died and the other four survived. At present one survivor still living. If possible, can I get a copy of a passanger list. Names:
Mr Mahomed Osman (died)
Mr Aziz Osman Ayub (survived/died in 90s)
Mrs Hurbai Osman Ayub (survived/died in 70s)
Mrs Emna (survived/died in 80s)
Mr Gaffer Osman Ayub (survived/living)
Alan Boswell, UK - Saturday, February 3, 2007 at 21:36:51
Re ss Madura my relative, Russell Combridge, sailed Madras/Tilbury in March 1926 via Colomo/Aden/Suez/Port Said/Marseilles/Plymouth and the ship is briefly mentioned in a letter he wrote, of which I have a transcription.
...sign the logbook

Irene Kelsall, UK - Saturday, February 3, 2007 at 15:38:07
I have a picture of the H.M.T. Nevasa writtten on the back Port Said Feb 24th 1927. I believe one of my uncles, surname Abraham living at that in St Ives, Huntingdon sent to this his mother (my grandmother). I also have pictures taken (I think on shore) at this time. Is anybody interested?
Liane Allen, US - Friday, February 2, 2007 at 18:37:51
Looking for a photo of the ss Dacca
Stuart Piper, Saudi Arabia - Thursday, February 1, 2007 at 06:41:51
Excellent website. Can anybody help me with the details of the loss of ss Golconda to a mine in the North Sea in 1916. I think I had a relative aboard.
Duncan Scorgie, UK - Monday, January 29, 2007 at 19:01:17
My father was with BI for many years as chief engineer. He left in 1946
Kenneth Muthusami, Australia - Sunday, January 28, 2007 at 14:15:40
Long ago, as a child I travelled between Penang and Madras on board ss Rajula and the State of Madras. I have happy memories of those trips. I am trying to look up pictures and history of those two vessels. I appreciate any help I can get in this regard.
Dan Taylor, UK - Thursday, January 25, 2007 at 22:57:43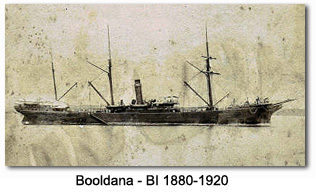 I have old photographs of the following if any one is interested: ss Booldana, ss Landaura and ss Virawa. If anyone knows what happened to Captain Archibald Clark after his time on Landaura I would be very interested to know.
Peter Griffiths, US - Wednesday, January 24, 2007 at 20:40:41


I am trying to find anyone who sailed with John Green Hind who served as a Purser on the Kenya and Uganda. He left BI in 1962? I would appreciate any leads.
Ann Adamson - Wednesday, January 24, 2007 at 17:52:24
I am trying to find details of the steamship Cathey [Cathay perhaps?] as my great grandfather who died aboard this ship October 1879 and was buried at sea.
Anthony Smythe, UK - Tuesday, January 23, 2007 at 17:42:00
Joined BI in 122 Leadenhall Street in 1952 and was in the Drawing Office as Ship Draughtsman. To One Aldgate, 1957, Dock Office, 1968 until P & O takeover of October 1971. Stayed with P&O until I retired in 1994. My father, Captain A G Smythe, joined BI as a cadet on Wangaratta in 1919 and retired in 1959. His last command was Amra. Lived in Rangoon, Bombay and Durban 1938 to 1947. Many childhood memories of BI ships. BI, still the best shipping company ever - killed by the bean counters. R I P
Lola Gentry, US - Monday, January 22, 2007 at 22:48:00
I need info about ports in the late 1940's which would have had freighters docking from Africa. I feel that it would have been a port from North Carolina coastline southward. Am writing a book about a Zebra that was transported to a port on the US eastern seaboard and I will have to use a location that matches the rest of my story. I think I can recognize the right dock if I can get the locations and know which ones accepted cargo/freighter ships from Africa. I have never seen a cargo ship nor any other sea vessel, and would like info about ships that could have brought a Zebra to the US, 1945-1950.
Peter Griffiths, US - Thursday, January 18, 2007 at 20:14:17
For Ian Tew - Sad to hear about Josh Grimwood. I was at Pangbourne 1957-60 and joined BI Bamora in 1961. Robin Paine was Senior Cadet. Glad you are well! I follow your exploits in the OP Magazine
Neville Green, UK - Thursday, January 18, 2007 at 00:21:28
Excelent website!
Britta Dobinsky, Sweden - Wednesday, January 17, 2007 at 23:04:38
I'm interested in knowing how long a ship passage with a steamer from Europe (Genoa or Southampton or...) to India needed in the end of the 19th century (about1890). If someone knows it and can tell me also a shipname please write a short message to my email. [From a BI timetable of 1904, for instance, BI's service from London to Colombo was timed to take 26 days. This is based on a ship speed of 12.5 knots. Times to Bombay would be a day or two less, depending on the particular ship's speed. Add four days for Madras and eight days for Calcutta to the Colombo time. The actual passage time would depend on the ship maintaining speed, weather, cargo and other factors - Editor]
Graham Dix, UK - Monday, January 15, 2007 at 20:30:24
I have some information on the HMS Rajputana if anyone is interested
Allen Currie, UK - Monday, 15 Jan 2007 at 15:14:56


I am the grandson of the late Samuel Drake. I know he sailed on ss Nuddea and ss Uganda as an engineer. The dates he sailed in active service I'm unsure of, but believe the dates were between 1951 and the early 1960s. I have heard many funny stories about my grandfather and shipmates through my grandmother. My grandfather passed away in 1972 with MS, and I was born in 1985, so I never got the chance to know him. All I have are photographs and stories, it would be nice to hear from people he sailed with.
Philip O'Sullivan, UK - Sunday, January 14, 2007 at 19:09:21
I was a passenger in Devonia. We left from Tilbury docks May 10, 1964 on a school trip down the bay of biscuits (Biscay) to Spain and on to Portugal. Had a fantastic time it just seems like yesterday. I was one of the lucky ones, £30 and 5/- spending money, and I came back with change. Had the time of our lives. Fun and educated all at the same time.
Jonathan Morris, UK - Saturday, January 13, 2007 at 21:58:10
Does anyone know how I can contact Jon Shaw? He posted a message in 2005 [Dec 12, 2005] about finding objects on a dive that belonged to ss Miriam Thomas. My Great Grandfather was captain of the Miriam Thomas on the night it sank [as a result of colliding with] Hospital Ship 4: Vasna. I also have contact with the brother of the 2nd Engineer that night. I would love to speak to Jon about the wreck.
Brenda Cheeseman, UK - Friday, January 12, 2007 at 09:55:52
Looking for my great grandfather's ship lost in Bay of Bengal cyclone 1864
Lorraine Blunsden, UK - Sunday, January 7, 2007 at 14:07:34
Hoping that someone might have knowledge or information on my grandfather, Roderick Macdonald. He was buried (apparently) in the Bay of Bengal in 1941. He was in command of the ss Shinhwa, when he died. On certain documents his surname has been spelt as "McDonald" He was active in WW1 and spent most of his career during WW2 in the Far East, he might have lived in Shanghai or had a base there. He was also detained in Manchuria. Any information would be welcome.
Ian Stacey, UK - Sunday, January 7, 2007 at 03:26:49


Reply to Brian Bannister, Dec 30 2006, have photo of Itaura - give address on site or to editor
Armand Di Rienzo, US - Thursday, January 4, 2007 at 14:23:06
Great information.
Michael Roper, UK - Thursday, January 4, 2007 at 06:23:58
The site has been the key to locked away memories, I see John & Ann Quinn mentioned, where's Sandy? Big Den Watson, we went to the same school, a photo of Peter Hillman. I started in 1971 my first ship being Chakla then Zaida for 2 1/2 years Eastern Service. Those were the days. I will be a regular viewer from now on
Keith Walker, UK - Thursday, January 4, 2007 at 00:36:43
I have just discovered the BI site and am amazed at the information available. I shall continue to work through the site and look forward to discovering more details
Geoff Woodland, Australia - Wednesday, January 3, 2007 at 22:26:31
I am a member of the HMS Conway site. `Conway' has received a letter from the Merchant Navy Association concerning a ceremony to honour the Merchant Navy during the Falkland war. As Uganda took part in the war, there may be ex-BI people who are entitled to a personal invitation. For full details please read the downloadable (PDF) MNA letter. The ceremony is to take place at Tower Hill 25th June 2007.
Tim Crosby, Australia - Tuesday, January 2, 2007 at 12:22:37
My father James Crosby served on the Jumna during WW2. I am trying to find out more information on the ship and my father's role. Can anyone point me in the right direction on where to start.