Robin McClelland, UK - Friday, December 31, 2004 at 03:48:48
I sailed as a passenger aged 6 from Mombasa to London (calling at Aden, Suez, Port Said, Marseilles, Barcelona and Gibralta, and passing through the Straits of Messina and past Stromboli) on Uganda in January 1961 - still have happy memories of it. Have just bought the book "Uganda - a very special ship" - masses of interesting info including reminiscences from a passenger on the same voyage! My mother also sailed on both the Mantola (in 1934) and the Matiana (in 1949).
Philip Hastie, Australia - Friday, December 31, 2004 at 00:39:55


I travelled from Fremantle to Basra in the early 60's Chandpara and returned on the Chakrata. Trying to get photos, crew names Captain and purser info. Ports visited etc.
Bill Pullin - Thursday, December 30, 2004 at 20:08:23
My father in law Tommy Lewis was aboard rms Tilawa (GKLP) as radio officer between c1926-c1938. The ship was later torpedoed by Japanese submarine I-29 at position 08.36N 61.08E in 1942 with 280 lives lost.
Veronica De France, Netherlands - Tuesday, December 28, 2004 at 00:09:57
I had a change to read some pages from the book about Sir W. Mackinnon that was recommend to me (a friend of my had ordered it on my behalf but reads it now for the 'as much that you want' time. So as a rebellion against Credit Cards I have to wait for my turn.... How ever in a glance I came accross the surname of 'Bulloch' and I wonder if he was related to the brilliant Confederate agent J.D. Bulloch? In; 'History of the Confederate State Navy by; 'J. Thomas Scharf' is written; 'Mr. J.D. Bulloch is now (1887) still living in Liverpool. Secret is what his occupation was during that time.
By the way I have found the information of Sir W. Mackinnon's vessel Alice. The Archive of Tyne and Wear were very helpful on that score (and very fast).
Well rest me to wish you all a 'good speed' for 2005!
Michael Tilling, UK - Monday, December 27, 2004 at 15:28:38


With ref to an entry by John Tilling, who must be a distant relative and Capt T.P. Tilling. My Grandfather was Capt Tilling's younger brother. My father still has the original telegrams sent to the family on the disappeareance of the Abhona. He had a ship named after him launched by his mother, my great grandmother to commemorate his passing. We do have other pieces of information. I would be interested to know what other information John Tilling has (his meassage was posted in January 2004.
Graham Taylor, Australia - Sunday, December 26, 2004 at 21:42:09
Extremely glad that I have at last discovered the BI web
Kendal La Amart, US - Sunday, December 26, 2004 at 06:21:55
I am interested in the Jelunga, which my great grandfather traveled on from Rotterdam, Holland to Ellis Island, New York, in July, 1908.
David Bryson, Australia - Saturday, December 25, 2004 at 07:19:08
My Father's family came to Australia in 1911 on the "SS Torilla" landing on the 10th. October 1911. Do you have a photo of this ship?
John Luckett, UK - Wednesday, December 22, 2004 at 15:13:38


Have just revisited this site and seen Derek Lewis's reply to my October posting. I'm pretty sure that the Commodore William Sinclair he knows about must be my Uncle William Sinclair, who also retired in the 1950's. He was born in South Shields in 1901 and spent part of the Second World War moored in the Persian Gulf, his ship crammed with munitions for the British armies in the Middle East - a sort of floating bomb. I have photographs of him, both as a young man and later in life. I also have a coat of arms painted by him, which I believe is the coat of arms of the BI line. The four quarters have, clockwise from the top left, an oared sailing ship on a blue ground, three palm trees on a gold ground, a silver star and a key. The motto is 'Stella clavisque maris indici. I would be fascinated to know about the letters Derek has, and the names of any of Uncle Billy's ships.
Bob Browne, NZ - Monday, December 20, 2004 at 10:28:16
Looking at Steve Monks photo gallery very good indeed. The heavy lift ship I presume is Amra when she carried two barges from Japan to Kuwait if I am write please confirm as I was on board at the time.
Heather Leavesley (nee Brookes) - Saturday, December 18, 2004 at 15:20:49


I have fond memories of an educational cruise to Norway and Denmark May/June 1977 (Cruise 777) on the S.S.Uganda. I am looking for information about the ship and that particular cruise as it included the Queen's silver jubliee while we were on board. Are there any documents/pictures that can be sent to me via e-mail?
It was a very special time as a 14 year old.
John Lewis, UK - Wednesday, December 15, 2004 at 16:29:52
Does anyone out there remember the fire on the Nardana, in India, in 69 or 70 , I had only just joined the ship, as Electrical Off, and we had a full load of cotton on board, when at about three in the morning all hell broke out. Went on to spend 3 happy years on board. Stayed with BI till Dark days of P&O then give it all up, still happy memorys of 8 years - Taffy Lewis
Christopher McKenny, Dubia - Wednesday, December 15, 2004 at 10:23:32
Sailed, Chantala, Karanja, Kampala, Dwarka, Amra , Juwara, and others , Note Cliford Cadman signed in 2nd Dec, where can contact you.
Demelza George, UK - Wednesday, December 15, 2004 at 00:14:34


Looking for any info about Norman Welburn who worked for BI from approx 1910 onwards. I know he was at sea and eventually became a captain. He lived in Rangoon was married to Claire Marguerite Sutherland, the daughter of the commissioner of Rangoon in 1908. Later moved back to England when his wife became ill in approx 1912/13. He had one daughter Margurite born in Rangoon 1911.
Sara Hayward, New Zealand - Sunday, December 12, 2004 at 05:14:36
I'm glad to find a site that may have information about my Grandfather.
Mark Ricketts, UK - Thursday, December 9, 2004 at 12:21:22
NZS Really - but at least one other of us on here and I sailed and was great friends with Terry Botten who trained on the original Oriana
Dave Woods, UK - Thursday, December 2, 2004 at 16:43:33
The memories come flooding back! It was a wonderful few years. Sailed on Sirsa, Carpentaria, Chakrata between 1968 and 1971.
Clifford Cadman, UK - Thursday, December 2, 2004 at 10:34:33
Served on Chantala Sirdhana Uganda and Nuddea then Mainly NZ Co ships as P7O General Cargo Division
Ian Stacey, UK - Tuesday, November 30, 2004 at 00:33:38~


Replying to Frank Hartley UK Weds July 7 2004- Have own foto of Chakdina at Sandheads -not brilliant pic but genuine. Cannot electronically send but can by post if you advise email address on this site or find mine from John Prescott. I sailed in her also. Ian Stacey deck cadet 1957-61
Peter Wilkinson, Bahamas - Sunday, November 28, 2004 at 20:29:12


A most excellent site. I am seeking ANY information on SS Madura (1922)and her service. Of special interest would be info/comments on her voyage to UK from East Africa in July 1940 when she was diverted to Bordeaux to pick up 1500 soldiers and British cvilians. I undertand that she was reckoned to be the last "troopship" to leave Bordeaux around July 20th. I have found that she had accomodations for 170 passengers all one class. The addition of 1500 extra bodies and the need to zigzag all the way home must have taxed to the limit the obvious ingenuity and capabilities of the BI folk. Lastly, built as she was at Barclay Curle, did she have sister ships ? Many thanks in advance and congratulations on a wonderfuly informative site Peter Wilkinson OP
Jonathan Manley, Australia - Saturday, November 27, 2004 at 06:12:38
I love sea travel
Robert Shawyer, Spain - Wednesday, November 24, 2004 at 21:05:34
A realy fine site. My grandfather Edward Shawyer - boastwain - official no. 121332- was lost at sea on the ss Rewa in 1910 I would dearly like some information on his career with BI- many thanks
John Goodwin, UK - Tuesday, November 23, 2004 at 08:45:48
sailed with steve sorsby and would also like to know what happened to cat. Salaams to anyone else from that time
Gordon Bartley, UK - Sunday, November 21, 2004 at 19:15:05
I was a passenger on the "Matiana" bound for Mombasa in April 1948
Steve Clarke, UK - Wednesday, November 17, 2004 at 14:09:33
eoin McGinty's request for recollection of Eugene McGinty on the Karanja. In 1959, I boarded the Karanja at Beira, for my first trip as a deck apprentice, - a voyage to Bombay. via Durban. Eugene was one of the memorable events of the trip, apart from [?]Paul Nunes, the Asst. Purser. These two took me n hand, and [as an abstemious cadet on £8 15s 4d per month] had to suffer and subsidise my taste for beer and Mateus Rose in the flesh pots of Lorenco Marques, Mombassa, and the like. The tone of the message from Eoin implies Eugene is no longer with us. Well he's alive and well in my nostalgia files
David Lennan, Australia - Saturday, 23 Oct 2004 08:13:21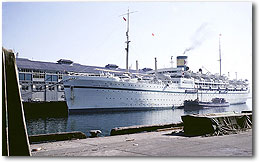 My last ship was the Brasil Star in the early 60s. I didn't take many slides at sea but once I arrived in Australia my interest in ships was as strong as ever, I started going to Sydney and visiting mostly passenger ships and going onboard and taking the best I could of the interiors being an ex steward. An interesting vessel was the Kuala Lumpur (ex Dilwara) and being an ex BI I thought this one of her in Sydney may have been of interest to you. David's 1969 photo is shown here.
Rick Avern, UK - Thursday, November 4, 2004 at 12:10:20
Am trying to track a James Avern who was a master of one of the fleet in 1875-1880. Can anyone help. Addred subsequently: James Avern was master of the SS Patna in 1882. We know for certain he travelled from Karachi to London in Feb and March 1882. Does anyone know how I can find out more?
Nick Jolly, UK - Monday, November 1, 2004 at 21:49:56
I have just come across this site and it has stirred many fond and a few negative memories of my Chindwara days (particularly a sweltering night off Port Sudan as a first tripper being treated to a "sports night"). It soon got a lot better as we headed down to Durban having met Neptune in the shape of Henry Severs on the way. Chindwara became a very happy second home though sadly I joined too late to get a trip to Australia as she was judged to be too slow with the advent of the W and N Class ships. I look forward to renewing memories and acquaintances through this site
Barry Marchant, UK - Monday, November 1, 2004 at 21:37:32
To Les Maiden in New Zealand, I have just revisited this site after a few months did you ever get the photo of (Matiana) that you asked for from Barry
Jeff Appleyard, UK - Monday, November 1, 2004 at 20:34:52
I still find it interesting reading, i only wish i had been older when we travelled home on the "DUNERA"
David Bates, UK - Friday, October 29, 2004 at 21:26:01
Sailed in the Queda 1962-1963
Glen Searle, USA - Thursday, October 28, 2004 at 16:50:27
Great grandfather was a warrant officer on ship named Jumna
Tony Brook, UK - Wednesday, October 27, 2004 at 00:28:21
The good memories last longest. Was the world really a better place 30 odd years ago or is it just an age thing? Great to have the resource to stimulate old memories! Thanks
Peter Hide, UK - Tuesday, October 26, 2004 at 17:24:51
It is over forty years since I took leave of BI but what wonderful times they were and what fond memories they rekindle! The chance to travel the world - and to get paid for the privilege into the bargain - was a lure I could not resist in those carefree days of youth. On looking back however I feel I gained much more from the experience of seafaring life and I will always feel fortunate to have had such a golden opportunity. To have recently discovered the website is another bonus. I do enjoy reading the exchanges and it is good to know that even though the great company has been assigned to history - thanks to this marvellous site and those who run it- the memories will live on.
Philippa Pettit, New Zealand - Monday, October 25, 2004 at 22:50:31
What an interesting site. I would love to see more information on the routes the ships travelled and in what years.
Ian Stacey, UK - Sunday, October 24, 2004 at 13:11:02
Portsmouth reunion - what a resounding nostalgic success - for me anyway- meeting shipmates after almost 50 years, incredible! Well done indeed the Spences and JP for the BI web site which is the 'connector' .
Derek Lewis, UK - Friday, October 22, 2004 at 23:09:35


Have just read John Luckett's posting regarding his uncle Captain William Sinclair and that he may have been a Commodore Captain of BISN Co. As the editor of this site knows I have letters from another Captain Sinclair who was also a Commodore Captain and retired in the 1950s after serving with the company from 1913. Could there have been two Commodore Captains with the same name ?
Paul Rogers, UK - Friday, October 22, 2004 at 13:55:36
Looking for details on NEURALIA - my Grandfather Albert Rogers and his B-in-Law Harry Sheppard both served on BI ships in the 20's - still have some of the momentoes they collected during this time. be vry grateful for any further info anyone has? Great site.
...sign the logbook

Jim Savage, Australia - Friday, October 22, 2004 at 04:34:43


Does any one remember philip evans 2nd engineer? his first ship in the bi co was on the nalgara which he joined on the 1/7/31 in calcutta as a 5th engineer, his last ship in bi was the rajula as 2nd engineer on the 10/6/1952. he was on the goalpara when she was bombed in greece on the15/4/41 he was also on the mv dumra when she was torpedoed on the 5/6/43 whilst on a voyage between mombassa and durban.when he left the bi company he joined shell oil as 2nd engineer until he retired in september 1965.any imformation on philip would be greatly appreciated.
Patrick Werr, Egypt - Thursday, October 21, 2004 at 21:38:59
On 25 August 2004 I asked for the name of the BI mail steamer that made the maiden voyage between Bombay and Basra in 1862. I have managed to track it down myself. It was the Tilly.
Alan Hough, UK - Tuesday, October 19, 2004 at 13:03:44
A very interesting site .Nice to see some old names & places from the past.Shall visit you again.God bless you all.
Jim Savaga, Australia - Sunday, October 17, 2004 at 07:06:18
very interesting site, will visit again for my research.
David John Stevenson, UK - Wednesday, October 13, 2004 at 12:46:56
Just found this amazing website and would be pleased to hear from anyone who remembers me.
Robert Hendry, France - Tuesday, October 12, 2004 at 15:31:44
My father, Willie (or Bill) Hendry sailed as Second (?) Engineer on Nyanza in the '30s and 40s. I would be pleased to hear from anyone who sailed with him.
John Luckett, UK - Monday, October 11, 2004 at 12:44:42


My uncle, Captain William Sinclair O.B.E. was employed by British India in the '30's, '40's and '50's. There is a family tradition that he was briefly Commodore of the Fleet before he retired. As a small boy I visited him on board when he docked at Avonmouth round about 1950, but I cannot remember the name of his ship. Any information would be much appreciated.
Kenneth Fernandes, Australia - Saturday, October 9, 2004 at 00:06:07
I did my time with BI on the following ships in 1952 to 1954. UMARIA, DUMRA, IKAUNA, FULTALA, and SOFALA. I sometimes meet ex BI officers, in my role a a compass adjuster. Always glad to meet them.
John Aaron, Australia - Friday, September 24, 2004 at 08:11:43
I would be interested in contacting John McAvoy regarding his father's service in Mulbera as an Engineer.
Paul Carter, UK - Tuesday, September 21, 2004 at 17:42:30
Easter 1969 SS Nevasa with West House School, Edgbaston, Birmingham, England. Flew to Venice-boarded Nevassa-Dubrovnick-Crete-Rhodes-Staights of Messina? saw Etna erupt at night-Naples-Gib-Lisbon-Regatta in Vigo Bay in the lifeboats-Southampton..£68 for the 2 weeks, Fantastic..Have 8mm film of it, about 200 feet. I was about 12 years old..still have autograph book for kisses..remember?
Mohammad Sabir, Pakistan - Monday, September 20, 2004 at 15:43:38
I want to know complete detail of Dara ship passengers.
Morris Bruce, Canada - Sunday, September 19, 2004 at 04:05:07


My father William Bruce was an Engineer Officer with the BI from 1936 to 1944. I would like to know what ships he was on and if you have any other information. He has since deceased and I regret now not having got the information from him when he was alive.
David Corbin, UK - Saturday, September 18, 2004 at 21:43:53
Interesting site. Diving upon the wreck of the first SHIRALA off Littlehamptom led me on a quest to find the ships plans and; eventually, to have a model made of her in her WW1 colour scheme. The quest also led to a 2nd photo of her being unearthed within the P&O archive showing the vessel at rest; probably in the Indian Ocean. The model is around 2 feet long.
Phillip Freeman, Australia - Saturday, September 18, 2004 at 14:41:45


I am interested in finding out about a Aurther H Spurge. I was given a book by my uncle recently and his name was written in the inside cover, I would like to find out any history about this man and his position on this ship. Any feedback would be greatly appreciated. Thank-you. [You omitted giving the name of the ship - Editor]
Struan Robertson, UK - Saturday, September 18, 2004 at 09:02:14
How tough it was; after eleven pm you had to pour your own drinks out!
John McAvoy, UK - Friday, September 17, 2004 at 16:24:46
My father (John T McAvoy, shortly coming up to his 90th birthday) retired in 1972 after he had been a chief engineer in the company. He served aboard the following ships: Gamaria (1936), Chakdara, Dunera, Kenya, Mulbera, Nyanza, Ellora, and many more. I had the great pleasure to go on some of the school cruises between 1964-1970 as part of the BI employee's children group. These were great fun and I was fortunate enough to travelled on all the ships involved in school cruising, Dunera, Devonia, Uganda & Nevasa.
James (Paddy) Devlin, UK - Friday, September 17, 2004 at 12:58:24
peter freeborn (ex-Bombala) phone02825656184
David Stevens, UK - Tuesday, September 14, 2004 at 10:18:50
My ancestor George Paynter Lewis was Master of the 'PATNA' Are there any pictures or paintings of this ship.
Pam Hill, UK - Sunday, September 12, 2004 at 19:35:20
Anyone interested in two menu cards from the s.s. Kenya dated 14th February 1955 please contact me. In good condition, some stains but overall good. Front pictures are an orchid and chrysanthemum. My email is pamhill@portishead12.fsnet.co.uk
Tim Ellis, Australia - Friday, September 10, 2004 at 04:19:53


Captain Frederick Freeman Ellis served with the company for 30 years retiring in 1961. He died on the 13 July 1981 his wife Kathleen is still alive aged 91. I am his son Tim Ellis. When I was 3 years old I sailed to Bombay on the Carthage with my mother and we stayed there until I was 5 years of age. Shortly before we returned to the UK we went on what was then called a health cruise from Bombay to Karachi, Mombasa, Zanzibar, Dar es Salaam, Zanzibar, The Seychelles, Goa and then back to Bombay. I am trying to find out what was the name of the ship that we sailed on. Could it have been the Aronda? I know it was not the Amra. I would be very grateful if someone could help me.
David Meats, UK -Saturday, September 4, 2004 at 19:55:08


SS Virawa. I have a British "Transport Medal" which has been passed down thru the family. It is for the S.Africa campaign (1899 - 1902) awarded to R.D.Dougherty who was apparently the Master of the Virawa at some time during that period. Can anyone give me any further information about this individual please?
Les Maiden, New Zealand - Saturday, September 4, 2004 at 11:39:48
I am looking for a good photograph of 'Matiana' (hard to find!). I was a passenger UK - Mombasa in May/June 1951
Maik Gh, Mauritius - Wednesday, September 1, 2004 at 18:43:35


Attention Annette Peppiatt: Mauritius Archives have records up to 1905. So there wont be any records available for the Loodiana as it left Mauritius in 1910.
Barry Brown, Canada - Wednesday, September 1, 2004 at 13:50:27
Was originally looking for information about the Bhundara, but new information has come to light and I believe that the ship I should be looking for is the CAMORTA. Went down in Apr/May 1902 with a great loss of life. Any info or photos greatly appreciated!
Maik Gh, Mauritius - Tuesday, August 31, 2004 at 13:42:51
I want to know where i can find the passenger list for the SS Ancona, which touched Port Louis, Mauritius on the 13th May 1900. My great grand father was on board. Thank You. [Ancona was not a BI ship]
Annette Peppiatt, UK - Sunday, August 29, 2004 at 11:09:33


My great granfather's brother andrew love died on the Loodiana in 1910 when the ship was lost in a cyclone en route to Mauritius, and i am trying to find out more about the event. [

Not much is know of this casualty as the ship went missing, presumed lost, in a cyclone soon after leaving Port Louis, bound Colombo. No survivors were found. Information from Laxon & Perry's BI - Editor]
Veena Yadav, US - Sunday, August 29, 2004 at 05:04:39
My grandfather came from india on the ship named; VIRAWA. I believe in 1906 he boarded the ship from CalCutta, India to come to Fiji. I am looking for the passenger name list and any other information. Please e-mail any information you may have. Thank you for your assistance in this matter.
Patrick Werr, Egypt - Wednesday, August 25, 2004 at 21:30:47
I'm trying to learn the name of the BI steamship that made the maiden voyage between Bombay and Basra in 1862.
Christopher Deakes, UK - Wednesday, August 25, 2004 at 19:00:51
Does anyone know anything about the artists JR Sawyer and D King whose paintings of BI ships were made into postcards? Be very glad for any information. Many thanks. Christopher Deakes (former BI Agent, Pt Sudan)
Joseph Denis, UK - Sunday, August 22, 2004 at 16:31:42
Please note a correction to my enquiry dated June 26th 2004. My Uncle's ship was lost in the Bay of Bengal and not the Bay of Biscay.
Barry Brown, Canada - Friday, August 20, 2004 at 18:32:18
Came here looking for info. on SS Bhundara, that went down in the Bay of Bengal around 1905..family member lost James Brown of Falkirk/Larbert Scotland....would like any info. and/or photos
Martin Augustus, UK - Wednesday, August 18, 2004 at 21:29:18
My great uncle 'Jack Augustus' served on the TS Nevasa during the war, I'm interested to hear from anyone who can tell me more about the ship. My father has a christmas card send from the ship which includes a line drawing which we have scanned in. I would be happy to share this with anyone interested. Please contact me at martin@sailingimages.co.uk
Clare Van Messel, Australia - Tuesday, August 17, 2004 at 10:58:52
Responding to Tony Ekneligoda's call for old mates to contact him August 2003 this site. Look forward to hearing from you.
Frank Young, US - Monday, August 16, 2004 at 08:05:09
I am writing an account of the Mesopotamia Expeditionary Force in 1914. I have learned, perhaps not entirely accurately, that five ships were chartered for transport to the Shatt-al-Arab. These were Varela, Umaria, Umta, Berbera, and Masunda. I have found some information on the first four of these on your great website. Does anyone know anymore about these ships, particularly with regard to their use as transports at the beginning of World War I? And can anyone identify the Masunda? Thanks very much for your time for this note. [Principal particulars and history of all BI ships are given in Laxon & Perry, while Merchant Adventurers contains the WWI careers of BI ships. L&P also contains details of the convoys from Indian ports in 1914 - Editor]
Margaret McCulloch, Australia - Sunday, August 15, 2004 at 04:06:30
This is an extremely good site.
Ian Stacey, UK - Saturday, August 14, 2004 at 02:25:28
Why has the BI lived to this day? Class, style and a camaraderie second to none - there was a very special feeling between all grades of staff - never to be forgotten - super company - Ian Stacey deck cadet 1957 to 1961
Kneale Barber, Australia - Thursday, August 12, 2004 at 12:23:22
Wonderful to see Paul Mann is alive and kicking (2 July 2004.) I remember those happy days on the Big W, Paul, and look forward to hearing more from you once your nerves have settled.
Janet Wood, UK - Sunday, August 8, 2004 at 09:27:3


For George Deans. My father was on the Warfield. I am looking through all his 'cigar boxes' for any information. My email is janetmwood@xxxx. Get in touch please.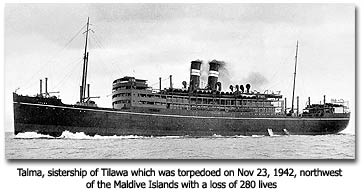 Ashraf Roomaney, South Africa - Wednesday, July 28, 2004 at 16:00:19
Can anybody help with information on ss Tilawa? Tilawa was torpedoed on 23 Nov 1942. Is anybody interested in assisting in the location and visual recording of this wreck?

Amerisen Amil Daya, South Africa - Wednesday, July 28, 2004 at 12:24:49
I need information regarding Mr Tiekam Makan Daya and his daugher Lalita Daya who has sailed from Durban to India between the time frame 1965-1968.....If there are any pictures/ log books/ information regarding any of them i would appreciate it.
...sign the logbook

Derek Hargreaves, UK - Sunday, July 25, 2004 at 21:27:47


For George Deans (message of 28th June) regarding more information about the death of your father. There is a brief account of the sinking of the Warfield in the BI War History 'Valiant Voyaging' and where Mr G R Deans is listed in the Roll of Honour (Europeans). If you have not seen this I can scan it and send it to you. However, I think there is an anomaly in the book where the text states that'... Mr Deans was killed by the bomb, but he and one Indian member of the crew-whose conduct was exemplary-were the only casualties.' This does not tie up with the Roll of Honour (Indian Seamen) where the names of some 37 other crew from the Warfield are listed. Of these only one is engineroom staff (Coal Trimmer) the remainder being Deck and Galley staff which I cannot explain.
Abbas Al Zadjali, Oman - Sunday, July 25, 2004 at 18:38:34
Great site and I beleieve the right one for my research... I am looking for Information regarding the sinking of a passenger ship in Muscat harbour during WW2?
Chris Rosamond, UK - Thursday, July 22, 2004 at 14:05:17
This post appeared last year: "Gordon MacKay, UK - Wednesday, January 29, 2003 Any information on the SS.Urlana, wrecked during WW2 on the West coast of Skye in the Hebrides, would be appreciated". I am the owner of a lifeboat that I believe attended the wreck - and would like to contact Mr MacKay. Can anyone help?
Adrian Moran, UK - Wednesday, July 21, 2004 at 23:16:21
I'm writing a text on out-of-school education in its various forms. I went myself on the first cruise of (I think) either the Devonia or Dunera from Cardiff to Coruna, Lisbon and Vigo. Does anyone remember it? There were some schools from South Wales and one from Croydon but I don't think the accomodation was full. I might interview some of the former pupil-passengers, but don't know where to start looking for them - the records seem to have disappeared. Help very gratefully recieved either memories of the trip or information re: the records. Using the ships like that was a good idea and I wouldn't like the records of the pupils' experiences to be lost.
Veronica de France, Netherlands - Tuesday, July 20, 2004 at 11:04:26


For eight years I tried to obtain as much information about W. Mackinnon's British India Steam Navigation company and Co. It would be nice to know which company supplied him from coal. Knowing his routes along the South African coast line, perhaps stopping for water supply at Port Elizabeth. To find all my answers on one Web side, well it would matters 'years' to me. There for at my own selfish interest; "Steam away as far as you can go!"
David Stephens, UK - Saturday, July 17, 2004 at 23:37:53
I am researching a ship called the Patna which was from Liverpool, sailed to Shanghai in 1864 under Master - George Paynter Lewis [an ancestor] who died aged 29 in Shanghai how or why? [The BI ship of this name post-dated your ancestor's voyage by about seven years - Editor]
Phillip Thomas, US - Tuesday, July 13, 2004 at 14:02:56
I bought a photo of Ellenga at an oxfam shop in Frodsham, Cheshire. It is in black & white, the ship is docked, and the water and waterline are tinted. There is a trident on the funnel, not the usual BI line marking. Can you shed light on where & when this photo was taken? [This would be the tanker Ellenga, built for BI in 1960 and transferred to the group's Trident Tankers in 1963 - Editor]
Tony Dare-Edwards, Australia - Tuesday, July 13, 2004 at 03:56:53
Father: Walter Laucelot Dare Edwards served on Barjora in the 1920s as 4th Engineer.
Ian Stacey, UK - Sunday, July 11, 2004 at 01:18:31


New to site; replying to Ted Rowley in Australia re love to hear from old shipmates- cadet 1957- 1961 22 ships including Santhia twice. Have photo of us two on bunk!
Anthony Balch, Canda - Saturday, July 10, 2004 at 12:01:43
I travelled on Empire Troooper once but cannot remember the details
Stewart Warden, Phlippines - Friday, July 9, 2004 at 12:28:04
Very interesting details of various ships
Frank Hartley, UK - Wednesday, July 7, 2004 at 07:32:28


The first ship I sailed on as a Junior Engineer after serving a full apprenticeship as a toolmaker in Lancashire was the Chakdina. I used to have some photographs framed on the wall of my house however, after a break-in the thieves took all the pics including the one of the Chakdina. Does anyone have an electronic version to send me so I can print and place it back on the wall.
Wal Allis, UK - Wednesday, July 7, 2004 at 01:31:51
I came upon this family site a while back it set me thinking of all the good times,I did have with the B.I. I joined the Chindwara in Sept.1962 I relieved a Dave Farmer 5E/o One of the 3E/o's was called Sandy Suter he had his wife with him the 2E/o came from South Shields he used to play the clarinet that he had with him. The 4E/o was an Australian The rest of the Engineers being from the "outside squad". The Chindwara was on Home trade. Returning back to UK I left her and joined the Socotra, then Landaura, Chakrata, Dwarka and Chantala
Paul Mann, UK - Friday, July 2, 2004 at 11:52:13
I read through your site with much interest. Kneale Barber and I used to go ashore to the 'chemists' (the bars) to recover from the night-before when the Waroonga was on the Australian coast no wonder my stomach is under constant hospital scrutiny!
Richard Teo, Australia - Thursday, July 1, 2004 at 03:59:45
Fantastic web pages but hard top get back to Forum. Should be an easier way to link? using Pass word etc? [Thanks for the suggestion. This has now been created - Editor]
Madhav Joshi, ndia - Wednesday, June 30, 2004 at 17:24:07
I had previlage of piloting many a BI ships and later as Master Pilot, Dock Master and Harbour Master of BPT, had many good memories of BI ships. My own batch mates from Training ship 'Dufferin' had served on BI ships.
Reg Watson, UK - Tuesday, June 29, 2004 at 21:25:03


I have a signed photo of HMT Neuralia, presumably taken during the war. Eight of the crew have signed it, including the C/O, the surgeon, and the Asst. Purser. I inherited it from my uncle, but I know of no link that he might have had with the ship or crew. Can anyone shed any light on this picture, or have any particular interest in it?
George Deans, Australia - Monday, June 28, 2004 at 09:25:55


My father G R Deans was 2nd engineer on the Warfield when she was sunk on 15/08 43. is anyone still around who could tell me what really happened? Alec Ralph who was 2nd Officer tried to find him but couldn't find any evidence as the engineroom was flooding. If anyone can help it would help to put our minds at rest.


Would like to hear from Janet Wood whose dad was also an engineer on Warfield. He may have known my dad and may have even been a Warfield survivor.
Bernie Butler, Spain - Sunday, June 27, 2004 at 19:53:50
Message for Bill Swan. We joined BI at the same time and shared a room during the interviews (I think in Anchor House). I helped you out with your crate of Watneys pale ale for which you should be for ever grateful to me. We also did the fire fighting course up at Liverpool before they would let us on a ship. The only other person I can remember from that time is Collin Dix. Message for Dave Rutter. We sailed together on the Chakla. I remember, Les Smith, Reg Varny, Earl Daniels, Andy King, Brian Alcock, Dale Worthington, Bob Spooner and our nice second Mr Pratt who used to come down on standby wearing a black berrie and carrying a bull whip. Weren`t we together in Goa on the Chakla. Maybe we will be there again in 2006! I was so sad to hear that Mike Winkworth had died. He was one of the best. I have a really nice photo of him in the bar of Chakla. If any of his family would like a copy email berniebj@arrakis.es and I would be happy to pass it on.
Joseph Denis, UK - Saturday, June 26, 2004 at 17:57:42


I am trying to glean information on my uncle Owen Williams, a deck officer in B.I. I have a photograph of him taken on Takada in 1922. I was told in my youth by my father Capt. Joseph Williams of P.S.N.C., that my uncle and his ship disappeared in a cyclone in the Bay of Biscay (not known when). But browsing through your list of ships I see that one named Okara was lost in that manner in 1923. I wonder if that could be the ship and that date. Has anyone got a list of officers on ships at that time?. Would appreciate any information. [See entry of Aug 22, 2004 with correction]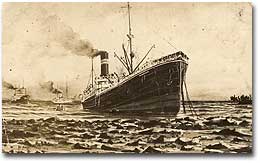 Marion Alexander, Australia - Wednesday, June 23, 2004 at 23:14:33
To Gillian Willis, Australia. My family came to Australia on the Waipara (right) and I have as photo if you would like it.
Alexander (Sandy) Suter, UK - Sunday, June 20, 2004 at 21:22:44
Would love to hear from anyone who knew me during my service with BI (1960-1967) Havent recognised any names from from the e.Mail page
Lindsay Copeman, Australia - Friday, June 18, 2004 at 13:00:24
Ahoy Me Hearties! Discovered this page accidentally through nosey kids on the Internet. Whilst I joined BI as a deck apprentice by the time I signed on my first ship the Carpentaria I found myself a part of P&O's GCD. At Heart I'm a BI boy Just loved my time and the guys sailed with I've cracked a bottle of fine red just now to drink to the Health of the fine ship mates from Carpentaria '72, (Somerset) & Chakdina,'73 Zira,'74/5 (Mataru) 76 Dwarka,'77 (Turakina)?, (Tekoa) 78 definately a memorable time amongst the pohm's. From here I will kep an eye on this site in the hope of catching up with some of you on the ethernet. Currently aground in Port Hedland West Aust. Will probably be here until they find a real Harbour Master. I'm having a great time raising four kids but I'd give an awful lot to be in my 20's again and have another go.
...sign the logbook

Eoin McGinty, UK - Tuesday, June 15, 2004 at 13:20:26
My father Eugene McGinty was a radio officer on the Karanja for in the late 50`s, early 1960`s. Does anyone remember him?
Paul Hamnett, UK - Friday, June 11, 2004 at 16:11:12
I was interested to find a Tony Hamnett listed on this site, to date I have found no other Hamnetts apart from my own family with a British India connection.
Cheryl Gossner, Australia - Friday, June 11, 2004 at 07:19:41


My grandmother Mary Macallum disembarked from The S.S. Waipara in Townsville, Qld in January 1911. She was from Dumbarton, Scotland and was classed as a domestic servant. If anyone has any connection to Mary I would appreciate hearing from them.
...sign the logbook

Richard Downer, UK - Tuesday, June 8, 2004 at 22:58:02
My late father, Captain Francis AJ Downer, DSC, RD, RNR (rtd) who died in Septemeber 1993, retired from the BI in 1970. At the time of his retirement he was in command of the SS Nevasa, having commanded the Devonia, and the Dunera before that. Before the school ships he had commanded the Quiloa I believe, and before that the Chindwara. He served in the BI except during the war years from the time he joined the company as a cadet on the Australia I think it was called in 1929. In the opposite bunk on this cadet ship was another BI cadet, a certain Maurice Head, who was later 'press ganged' into the Royal Navy around the start of World War Two. Head finisheded his career in the Royal Navy as a Commodore and attended my father's funeral in 1993. My father's obituary from the Daily Telegraph can be found on http://www.axfordsabode.org.uk/rn-ships/rnmonts1.htm The picture of the ship's company of HMS Montserrat is above the obituary. The then commanding officer of the Montserrat, Lieut. Commander Francis Downer is seated in the middle just above the 'ts' of the words HMS Montserrat in writing on the photo. The obituary mentions convoy ONS5,deemed to be the turning point of the Battle of the Atlantic. On that convoy HMS Northern Spray which my father commanded rescued 56 out of 62 men of the US freighter West Maximus which had been sunk by U boat attack, see: http://www.history.navy.mil/danfs/w6/west_maximus.htm My father returned to the BI after the war The distinguished role of the Merchant Navy during the Second World War was very important to my father. On one occasion he laid a wreath at the Merchant Navy War Memorial at Tower Hill on behalf of the BI on Remembrance Sunday.
Sheila Berube, US - Tuesday, June 8, 2004 at 03:38:55
Interested in the history and the bombing of the HTM Rohna, my Great Uncle was onboard
Darryl James, US - Friday, June 4, 2004 at 16:49:48


trying to locate final destination of passenger Victor Sumagi on rms Dwarka sailing approx march 1953
Alexander Suter, UK - Friday, May 28, 2004 at 21:44:34
Excellent site that has brought back some fond memories from days on the eastern route. Would love to hear from anyone who remembers me.

Also interested in the whereabouts of Derek Boardman who served with Maurice Deans (now resident in Australia) from 1959 - 1960.
Geoff Taylor, UK - Sunday, May 23, 2004 at 21:09:41
A really well put together site. I have left the group temporarily since changing isp's. Hope to get to Goa but cannot make Portsmouth
Derek Lewis, UK - Saturday, May 15, 2004 at 15:54:49
Message for Robert Fenner regarding 1900s sea trips. I may be able to help, my e-mail is dee.makem@btinternet.com
John Aaron, Australia - Friday, May 14, 2004 at 07:50:26
I am interested in making contact with anyone who served in the Mulbera during World War II. My brother Les, was a 5th Engineer in her during 1943/44. I am particularly keen to acquire a photo of Mulbera if one exists out there. A great site!
Daryl Paul, UK - Monday, May 10, 2004 at 08:56:10
My father Richard Nugent Paul worked for British India Steam. He was Port Commissioner for Calcutta (Kolkata) in the 1960s.
Robert Fenner, UK - Sunday, May 9, 2004 at 07:13:54
I am interested in what it was like to travel on BI troopships - and perhaps on P&O too - on voyages to and from India around 1900. Can anyone recommend further reading? The bibliography on this great website lists several books that give details of individual ships, but I'm more interested in the experience of the voyage, the conditions on board for officers and men, where the ships called en route, that kind of thing. Can anyone help? I'd be grateful for any advice. It's for something I'm writing. Thanks in advance.
Philippe Methot, Canada - Friday, May 7, 2004 at 15:35:30
My voyage on the S.S. Uganda when I was 19 years old, stayed in my daily memories for years. Much later in life I was able to return to sea as a lecturer on cruise ships in the Caribbean, and also was a revenue manger for Festival Cruises; Flamenco and the Bolero. The Uganda was a magic ride through history, enchantment, and wonder. As young students a long way off from Canada, we were given a magic carpet ride that is hard to compare today. Farewell to a grand ship and to a time when the world still held us in awe.
Eric Moar, Australia - Friday, May 7, 2004 at 14:39:07
Message to Bill Swan - Good to hear from you after all this time - (my email is eric.moar@robe.riotinto.com) - yes I remember Roy Burt and John Buxton was the 3rd, I believe he is in NZ as he joined the Chakdina after the Aska. Ken Smith was the chief eng when we were on the Aska. and yes I still have photos of those parties as well
Robin Pottinger, UK - Thursday, May 6, 2004 at 10:46:34


I would like to find out what I can about my paternal grandfather, Capt. R.R.Pottinger. I know that at some point in his career he was Master of the SS Tanfield, probably in the 1920s or 1930s. I would like to be able to trace his career with BI. Is there any archive to which one can refer ?
Kenneth Jones, UK - Wednesday, May 5, 2004 at 18:57:08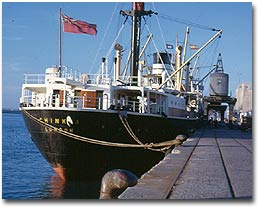 Of the 14 years at sea as a radio officer serving in cargo, passenger vessels and tankers. The Chinkoa (pictured right) was the best. The BISN had a lot of style. If I could do it all again I would but it would have to be with BISN. Incidentally i did sail on the Corfu the Pando vessel that sailed between London Tilbury and onwards to Hong Kong. Why has bisn memories lasted so long and Pando is just a name in a discharge book. Thank you for the trip down memory lane. It is amazing that i have located 2 former deck officers via the site. Best wishes
Giles Buchannon, UK - Wednesday, May 5, 2004 at 18:25:20
A great site. I am researching the Karoa for a friend of mine. Wondering if tehre is any more inforation about her anywhere.
Matthew Flinders, UK - Monday, May 3, 2004 at 14:50:38
My family have been seamen for many years and many generations, my late Grand Father was Captain Frederick John Flinders, he commanded the SS Uganda, Nyanza, Mombassa etc, i have loads of photos on ships, places and people as well as other interesting stuff.
Bruno Carbonell, France - Monday, May 3, 2004 at 14:31:33
I travelled on MS Dunera between 1962 and 1964, as a member of the "school office" (purser's bureau)
Barry Marchant, UK - Saturday, May 1, 2004 at 22:39:57


Can you tell me, did the BISN co own small paddle ships, I have a photo of one called the ZENOBIA funnel colours match she could be in a river, possibly India, I can find no reference to her in my books on BI. thank you. Very good shipping site.
Shyam Gulabsinh, India - Tuesday, April 27, 2004 at 07:28:00


I am thrilled to visit this site. I used to travel by BI- PO in the 1960's with my grandfather from Beira to Bombay. There was one incident in Dec 1965 or Jan 1966 aboard S S Karanja. The severe cyclone struck us and for 24 hours we were stand still in the middle of the sea (i think was near Mombasa). If anyone aboard from that particular voyage would like to share some history would be fine. Anyone say from the staff the captain or his family or just about anyone. I must have been about 8 years then.
Steve Sorsby, New Zealand - Monday, April 26, 2004 at 10:20:25


Radio Operator 20 years old. Sailed on the SS Nyanza 1968 through 1970 after she came back from P&O (formerly Balranald). Did the east africa run and then gulf to Japan with all points in between. when was she scrapped? What happened to the cat.
Rosemary Howard, Australia - Wednesday, April 21, 2004 at 12:19:38
Congratulations on your site. Do you have access to names of staff. My late father was a radio operator and was torpedoed off the coast of India about 1941-3. We are keen to know the name of the ship. Can you advise further sites etc?
...sign the logbook

Ray Gough, UK - Wednesday, April 21, 2004 at 09:47:53
Was a green 'fiver' on tne Tairea in '72, and again when absorbed / renamed Strathlomond. Made member of BI club in Bombay at midnight by worse for wear but grateful Captain and Chief Engineer who I rescued from 'falling down juice'. Also did spell as 4EO on Merkara. Happy days. The world really was a nicer place then (or was it just my youthful eyes). Great site, thanks.
Richard Paul, UK - Tuesday, April 20, 2004 at 20:12:13


My father Richard Nugent Paul known as Dickie was a marine engineer for the company during the 2nd world war until perhaps 1951 when he became Suction and Bucket Dredging Master of the Hooghly, Calcutta Port Commissioners. He died in August 1966. If there is anyone who knew or worked with him, please contact me. Thank you in anticipation.
Murray Upton, Australia - Mon, 19 Apr 2004 15:09:20 +1000


I have been searching for a contact who may know if there are passenger lists available for the SS Taroba that sailed from England to Australia in 1890. There were two trips in that year and unfortunately I do not know which of the two my ancestors came on. Would appreciate any guidance you may be able to give me. Thanks