FOR ALL THOSE WITH AN INTEREST IN BRITISH INDIA STEAM NAVIGATION (BI)
Bill Highams
Bill lives in Dorset and a few years ago decided to pick up brushes and easel to try his hand at painting. Being a former seafarer and British India man, for him nothing was more natural than to start painting 'his' ships and then gradually adding other vessels to the portfolio.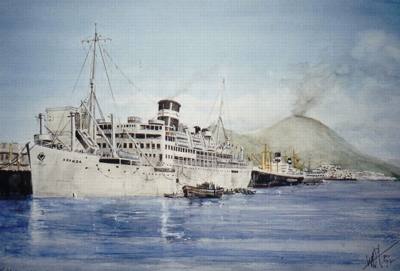 He works in oils and watercolour but much prefers watercolours as the medium allows better possibilities for light and the translucency in the painting.Bill makes no bones about it, he is an amateur painter but, as the images show, he produces excellent results.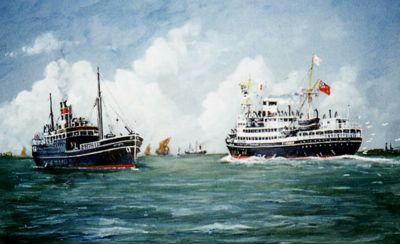 Bill would be delighted to take commissions for ship paintings: he can give an estimate for a painting and if that is acceptable will take a commission for the work.

The most satisfactory work results from a good specification. It will help a lot in the composition, if you can provide photographs of the background scenery, from which Bill can work.

The finished painting is unframed, so it can easily be sent overseas in a postal tube. To get an estimate from Bill, phone +44 (0)1202 885183 or write to I Beaucroft Road, Colehill, Wimborne, Dorset, BH21 2QW, UK.

Bill Highams at his easel